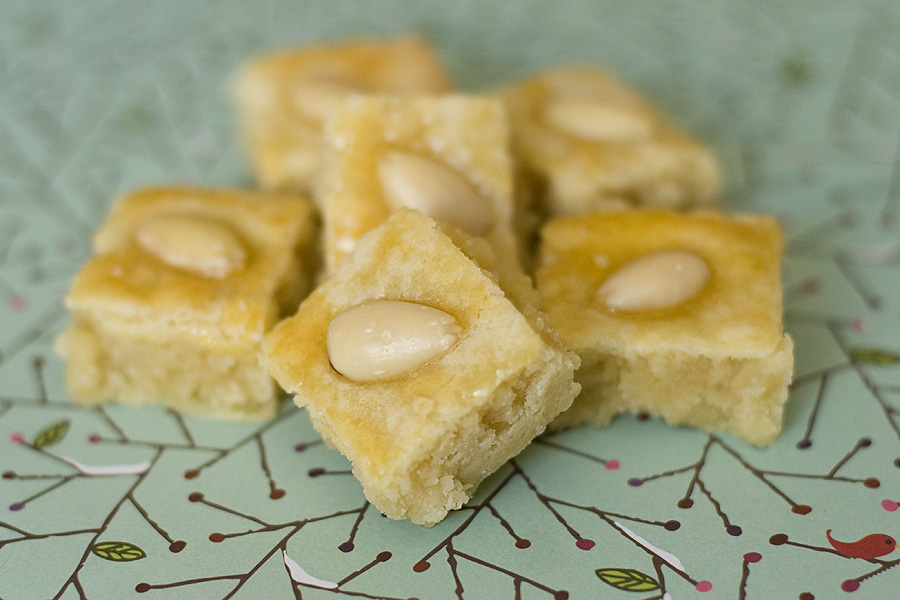 My lovely co-worker made these bars and I fell in love with them (hi, Vicki!!). They are so full of almond flavor, which is always a good thing in my book.
Almond Shortbread Bars
Print Recipe
1 cup margarine (butter will also work)
2 cups sugar
1/2 cup vegetable oil
2 eggs (reserve 1 tsp)
4 cups flour
50 whole almonds, blanched
2 teaspoons almond extract
1. Preheat oven to 350F and grease a 9×13″ pan.
1. Cream sugar and margarine, then add oil and mix well.
2. Add beaten eggs (minus reserved 2 teaspoons) and almond extract; mix well.
3. Add flour, 1/2 cup at a time, mixing well after each addition.
4. Spread into prepared pan. Brush 2 teaspoons of egg onto the dough and score into 48 squares.
5. Bake for 30 minutes, then cool on a wire rack. Once completely cooled, cut on scored lines.