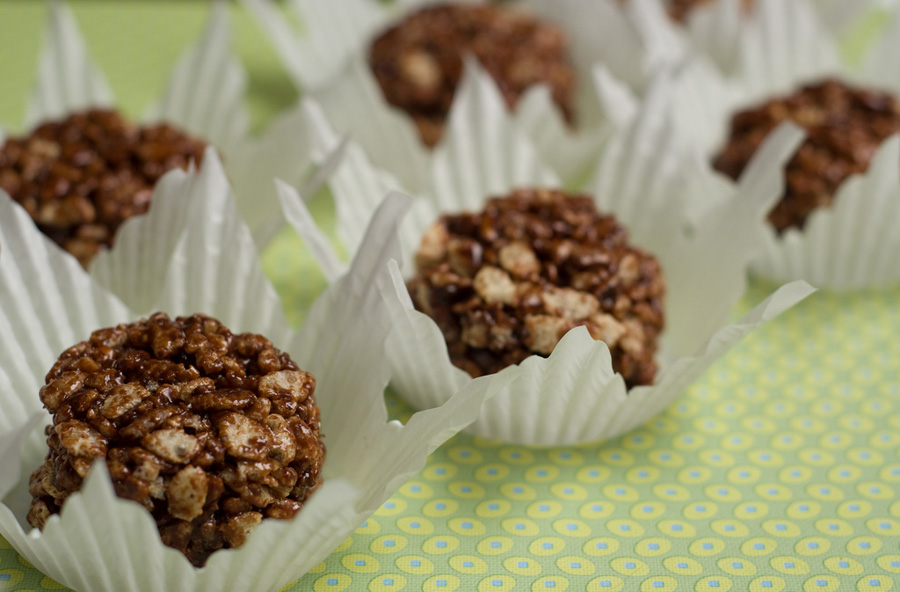 Growing up my siblings and I always had a Little Debbie in our lunches. One of my favorites is the Star Crunch- you know the one: that chocolate-caramel-rice crispie patty. I dream one day of coming up with a version of my own and this was the first stab, so to speak. I found this on bakespace.com (direct link to the recipe here). I suspect I used too much cereal, because the chocolate caramel coating was a little too scarce. The original recipe calls for 10 0z., but the generic box I got at Dominick's was 12 oz. and I am one of those "what-am-I-gonna-do-with-2 ounces-of generic-rice-crispies?" cooks, so naturally I used the whole thing. If you are lazy like me, it will seem like there isn't enough chocolate sauce to cover them all, but be patient, because as the chocolate sets up, they really do hold together nicely. Also, while forming them into individual servings is a fun way to present them, you must cover yourself in Pam to keep the stickies off and you will probably find it easier just to press them into a pan and cut them into squares. As a cautionary note, these are not good substitutes for Star Crunch cravings, since they are more like rice crispie treats than anything. That being said, they taste really good. To quote my husband, "These are how cocoa crispies are supposed to taste!".
Chocolate Crispies
Print Recipe
1 (12oz.) box crisped rice cereeal
1 jar (~11 oz.) caramel ice cream sauce (I used Smucker's)
1 bag (~11 oz.) chocolate chips (I used Ghirardelli 60% – we love dark chocolate here)
Directions
Melt choclate chips and caramel sauce together in a very large bowl (big enough to hold all the cereal with room to stir) over a pot of boiling water, stirring constantly until smooth and well combined. Remove from heat. Stir in cereal.
Spray 13″ x 9″ pan with Pam and press into pan or spray hands and form into individual patties and place on wax paper. Let sit ~ 1 hour to fully set up.