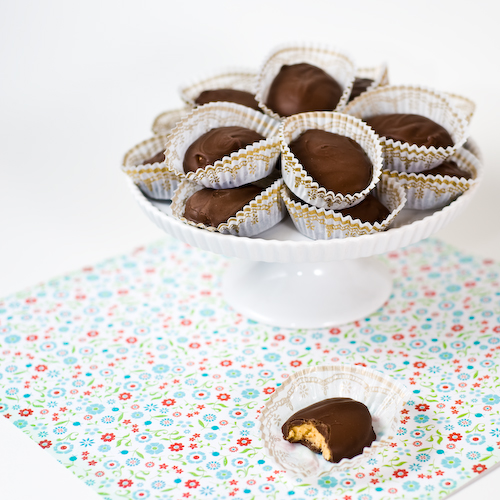 Peanut butter eggs are my 'hands down' favorite Easter candy. Every year I look forward to when I can find those delectable little yellow packets at the front of the grocery store. In my opinion, they are the  quintessentially perfect peanut butter-to- chocolate ratio, second only to the king size Reese's cups and leaving the mini cups a distant third. Now that Easter has come and gone, I needed to find a way to sate my apparently fickle sweet tooth. Here's what I came up with: freezing the peanut butter filling in my deviled egg plate to make little egg shapes, then dunking them into melted dark chocolate candy coating. It is a little primitive I know, but it sure did the trick!
P.S. the graham cracker crumbs are the secret to getting that somewhat sandy texture we've all come to love and expect from those store  bought gems.
Peanut Butter Eggs
Print Recipe
1/2 c. butter, softened
1/2 c. chunky peanut butter
1 c. powdered sugar
2 Tbsp. honey
1/4 tsp. salt
3/4  c. graham cracker crumbs
12 oz. chocolate almond bark (candy coating)
Directions
Mix all the filling ingredients together until smooth and incorporated. Drop by tablespoons into the Pam-coated egg cavities of an egg plate (mine holds 24- just enough for this recipe), though you could probably shape them into patties or balls if so desired. Freeze for at least 1 hour. Melt candy coating til fluid, stirring as needed. One by one, drop eggs into chocolate with one hand, then use the other to turn it over, remove excess with a dipping motion, and place onto wax paper. This way ensures that you always have one clean hand (trust me, it makes the whole process much neater). Work as quickly as possible to avoid melting the centers before they are thoroughly coated.