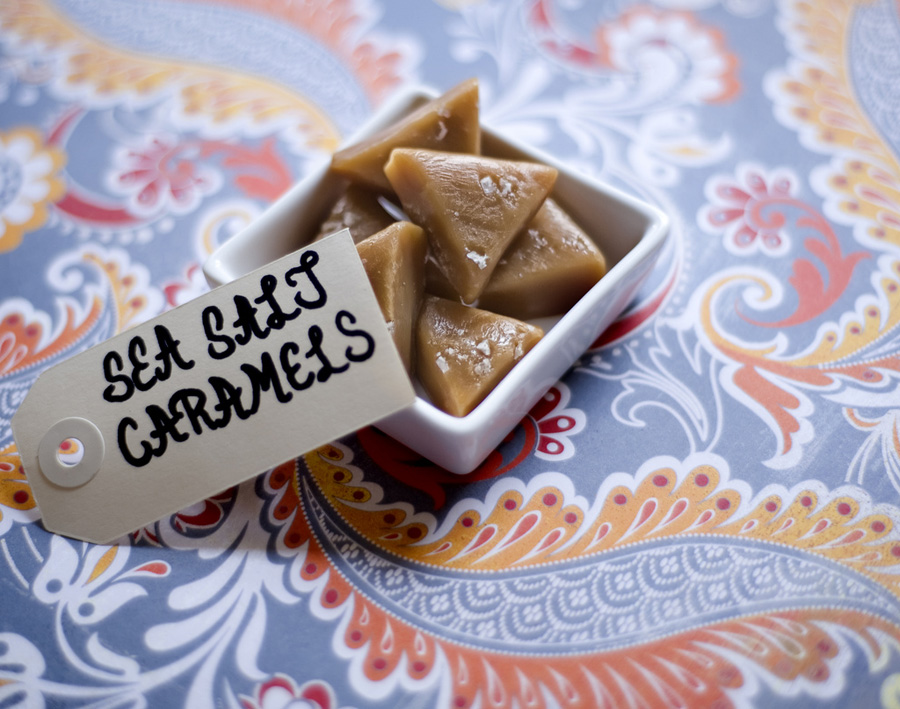 This recipe is AWESOME! However, in the spirit of full disclosure, I must admit that these did not go as planned.  My lovely sister-in-law loves sea salt caramels and I thought these would make a great gift for her birthday. Unfortunately, I am a candymaking novice. Long story short,  I must emphasize the following points: 1) be prepared to devote a really long time, ~45 minutes of active stirring/thermometer watching and 2) do NOT pour the caramel into a pan lined with wax paper. I thought I was being clever and lined the pan with buttered wax paper. Then, I could simply lift out the cooled slab, right? Wrong! The heat melted the paper to the bottom of the caramel, so I had to "skin" the paper off the bottom with a chef's knife. Also, the coffee taste from the liquor is pretty strong, so if you don't think you'll like it, try using vanilla extract instead. Besides that, they look and taste great and the texture is spot on. I would highly recommend trying this if you are feeling candiferously-inclined. The original recipe can be found here, but I've  posted my version below.
Sea Salt Caramels
Print Recipe
2 c. sugar
1 tsp. table salt
1/4 c. butter, plus extra to butter pan
3/4 c. light corn syrup
2 c. heavy cream, divided
2 1/2 Tbsp. coffee liquor
3 Tbsp. coarse sea salt or to taste
Directions
Butter 8″ x 8″ pan.
Combine first 4 ingredients into large heavy pan with 1 c. of the cream. Place on medium heat and stir until dissolved and mixture comes to boil.
Stream in remaining cream so that boil is maintained. Insert thermometer and continue to boil over medium heat stirring constantly. Do not be tempted to increase the heat, just let the caramel boil and cook to a nice toffee brown shade.
When mixture reaches 250o F, carefully stir in liquor. Mixture will boil vigorously. Pour into prepared pan and sprinkle with sea salt.
When caramels are cooled, cut into squares with a buttered knife and wrap in squares of parchment paper.