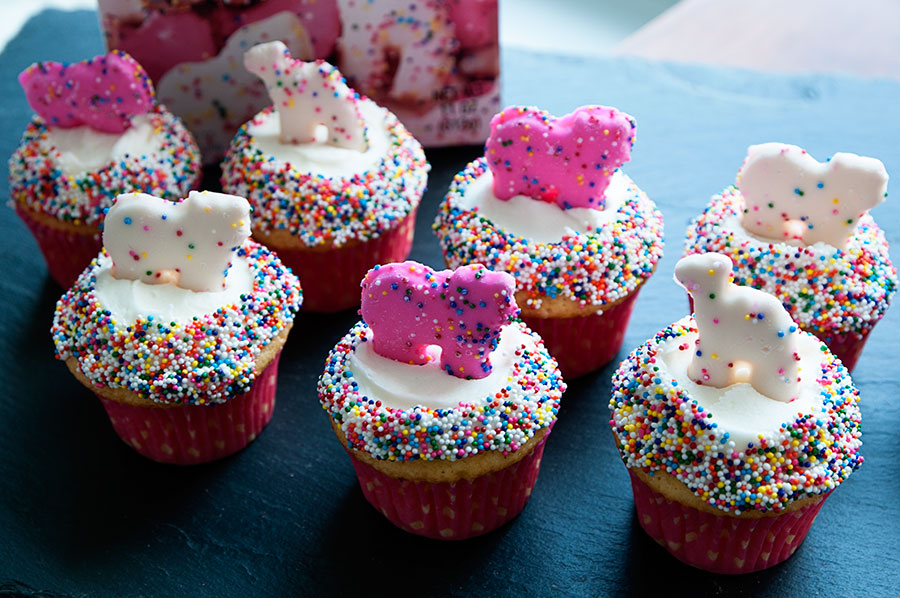 Another favorite cookie of mine (I have a lot of favorite cookies) is the Carousel Frosted Animal Cookie. These are not to be confused with other frosted animal cookies – because they are better than any of the competition. A few years ago I made cut-out cookies inspired by these little pink and white beauties.  This time around I'm featuring them on cupcakes. There is nothing special about these cupcakes — they are mainly here to serve as a decorating idea! Hope you enjoy!
Rippin' Good Carousel Frosted Animal Cupcakes
Print Recipe
1 box cake mix (I used funfetti), plus required oil and eggs
1 batch of buttercream icing (take your pick from any featured here)
Rainbow nonpareils
1 box of Rippin' Good Carousel Frosted Animal Cookies
1. Make cupcakes according to box directions and allow to cool completely.
2. Make a batch of buttercream icing and frost each cupcake.
3. Dip the sides of the cupcakes into a bowl of rainbow nonpareils. Top each cupcake with a frosted animal cookie.