Yearly Archives: 2009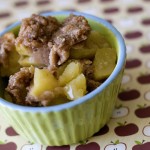 My love affair with fall continues. Nothing smells more like fall than apples baking in the oven! I love recipes that are SIMPLE yet delicious. My friend Laine sent me this recipe and raved about it. She was right. If you are unsure of what type of apple to use, I would recommend Braeburns. Tart...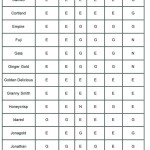 I originally saw this information on Cake Spy and wanted to pass it along to my readers as well! Pillsbury has a "Love the Pie" campaign going on right now to promote making, eating, and sharing pies. Yum! You can read all about it at the Pillsbury Pie Page. And since apple seems to be...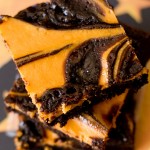 Oh my heaven. I'm always a fan of any combination of chocolate and cream cheese. :) These brownies are really dense and rich! Halloween Brownies Recipe source: Betty Crocker Filling: 6 oz. cream cheese, softened 1 egg 1/4 cup sugar orange food coloring 1/2 teaspoon vanilla extract Brownies: 1 box Betty Crocker Original Supreme brownie...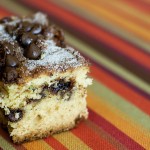 Mmmm. Mmmmmmmmm. Is there anything better than cinnamon + sugar + chocolate + cake? I didn't think so. This recipe is pretty easy – and makes a big 9×13 cake! Cinnamon Chocolate Chip Sour Cream Cake Recipe Source: Smitten Kitchen 1 stick unsalted butter at room temperature 1-1/2 cups sugar 3 eggs, separated 1-1/2 teaspoons...