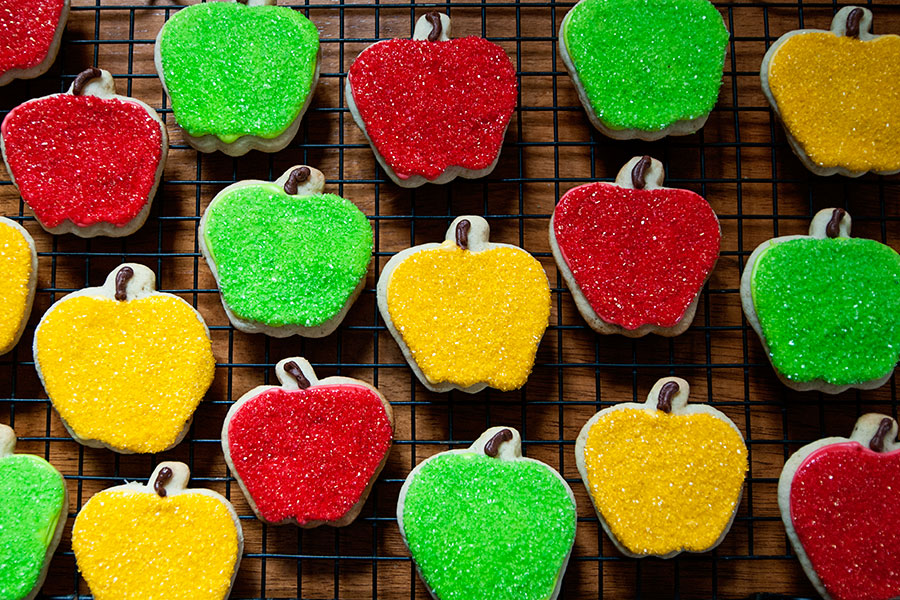 Little apple cookies! Aren't they cute? I am in the camp that hates (hates) pumpkin spice anything, so I choose to make fall all about apples instead. Apple pie. Apple cider. Hard apple ale. It's all good. What's your favorite type of apple? It's a tie between honeycrisp and granny smith for me. Here's the scoop on how I made these cookies!
If you are a new to decorating with royal icing, here are some helpful tips and links:
I used my grandma's sugar cookie recipe, which is listed below.  Another good cut-out cookie recipe can be found at Bridget's wonderful Bake at 350.
I used a royal icing recipe from Annie's Eats, which is listed below.
If you are new to decorating with royal icing, please visit this post by Annie's Eats, which will teach you about outlining and flooding.  Bake at 350 is also a great resource for cookie decorating and ideas (I love Bridget's book, too!).
Here are the specifics on how I made these cookies:
I used a small apple cookie cutter — mine was only about 2″. I wish more cutters would come in this size!
You will need red, yellow, and green sanding sugar; as well as red, yellow, and green food coloring. I used AmeriColor gel colorings. I chose more of a lime green so that my  green apples would look like granny smiths.
I bought a tub of chocolate frosting for the stems. I wasn't about to waste the time making a whole batch of homemade chocolate buttercream just for those little stems!
I outlined the cookies with icing first using a small round tip (see below for the recipe I used); once the outlines set, I flooded each apple. Immediately after flooding, I dipped each apple into sanding sugar.
The last step is to pipe a little chocolate stem onto each apple.
Omi's Sugar Cookies
Print Recipe
1 cup butter
1 cup sugar
1 large egg
1/2 teaspoon salt
3 cups flour
1 teaspoon baking soda
1/2 cup sour cream
1 teaspoon nutmeg
Beat butter and sugar. Add eggs, sour cream, and nutmeg. Add dry ingredients gradually. Chill the batter overnight or for at least 4 hours. Roll out dough and cut with cookie cutters. Bake at 350F until golden (in true fashion, my grandma didn't give a specific baking time. I baked the cookies for about 8 minutes).

White Royal Icing
4 cups powdered sugar, sifted
2 Tablespoons meringue powder
5 Tablespoons water
Directions:
Combine all ingredients in the bowl of a stand mixer fitted with the paddle attachment. Mix on low speed until the sheen has disappeared and the icing has a matte appearance (about 7-10 minutes).  Transfer the contents of the mixing bowl to an air-tight container. This will be the stiffest consistency of the icing, and at this point it is still too stiff to use for decorating. Add water a very small amount at a time and stir by hand until fully incorporated. Continue until the icing has reached a consistency appropriate for piping.
Divide the icing into three bowls; dye one red, one yellow, one green. Outline the apples with the icing; wait a few hours then flood — and dip into the sanding sugar. Pipe a little chocolate stem onto each apple.
Note: depending on how big your apples are or how many you are making, you may need to make a few batches of this icing.