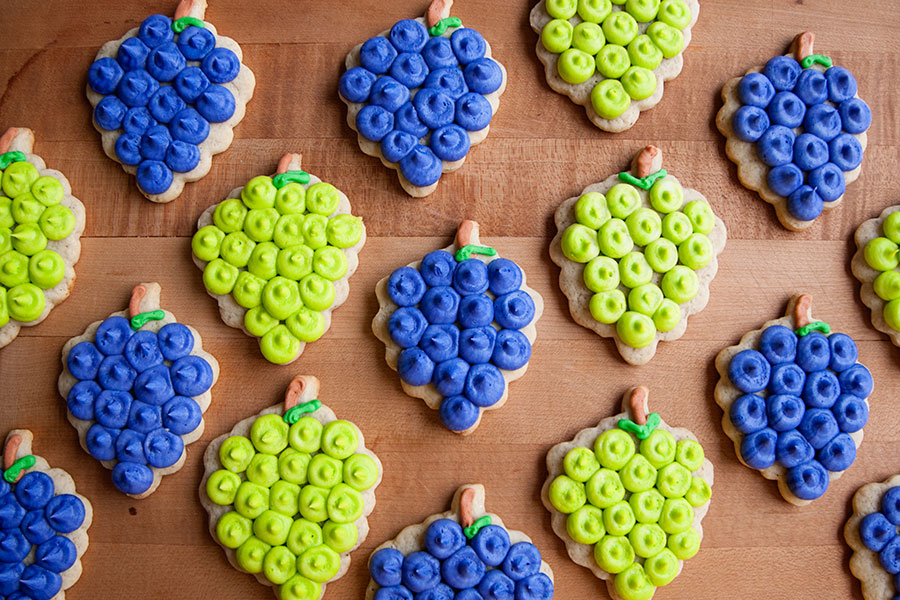 Hey guys! Summer is almost over and I have blogged nothing. Nothing. I'm sorry for neglecting my little blog. The reasons why I basically peace'd out are numerous. Adjusting to work has been difficult (as I mentioned in my last post from July). The weather here is still warm, so I've been avoiding the use of my hot oven in my hot house. But autumn is coming (my favorite baking season) and I'm hoping to get back into the groove.
I'm sure you may be wondering, "wtf is up with the grape cookies?" Well, I had a birthday last week — and it got me thinking about my childhood (as birthdays tend to do). When I was about five years old, my mom took me to our local bakery and let me pick out any birthday cake I wanted for my party. I could have picked a princess cake or a Disney-themed cake or a cake with balloons piped onto it. But no. What did I pick? A cake with purple grapes piped onto the corners (I guess the bakery wanted to try something besides the traditional icing roses). It's been a little joke in my family ever since — so much so that I've been gifted 4 different glass grape Christmas ornaments over the years.
So I decided to make these little cookies. And I really do hope I can make more time in my schedule to start baking and posting. Thank you for your patience :)
Grape Cookies
Print Recipe
For the sugar cookies:
2 cups butter
2 cups sugar
2 large eggs
1 teaspoon salt
6 cups flour
2 teaspoons baking soda
1 cup sour cream
2 teaspoon nutmeg
Beat butter and sugar. Add eggs, sour cream, and nutmeg. Add dry ingredients gradually. Chill the batter overnight or for at least 4 hours. Roll out dough and cut with a grape-shaped cookie cutter. Bake at 350F until golden, about 8-10 minutes.
Note: You can use any sugar cookie recipe you'd like. I used this because it's my favorite. But use whatever you prefer. The recipe above will make quite a few cookies — at least 3 dozen.
For the icing:
1 stick salted butter – room temperature
1 stick unsalted butter – room temperature
1 cup shortening
1 tablespoon clear vanilla extract
2 pounds confectioner's sugar
4-6 tablespoons very cold milk
Dark green, lime green, purple, and brown food coloring
1. Cream the butter and shortening in the bowl of an electric or stand mixer.
2. Add the clear vanilla extract and combine well.
3. Begin adding in the sugar and mixing thoroughly after each addition.
4. After all of the sugar has been added and mixed thoroughly, begin adding the very cold milk… one tablespoon at a time, combining very well after each addition (mixer on medium-high to high speed) until you reach the desired consistency.
5. Divide into four parts. You'll need far more purple and lime green icing than you will brown and dark green (for the stems/leaves), so portion accordingly. Dye the icing.
— Recipe from therepressedpastrychef.blogspot.com
Assembly:
Using a medium round tip, pipe purple and green "grapes" onto each bunch. Using a small round tip, pipe the stems and leaves onto each bunch of grapes.