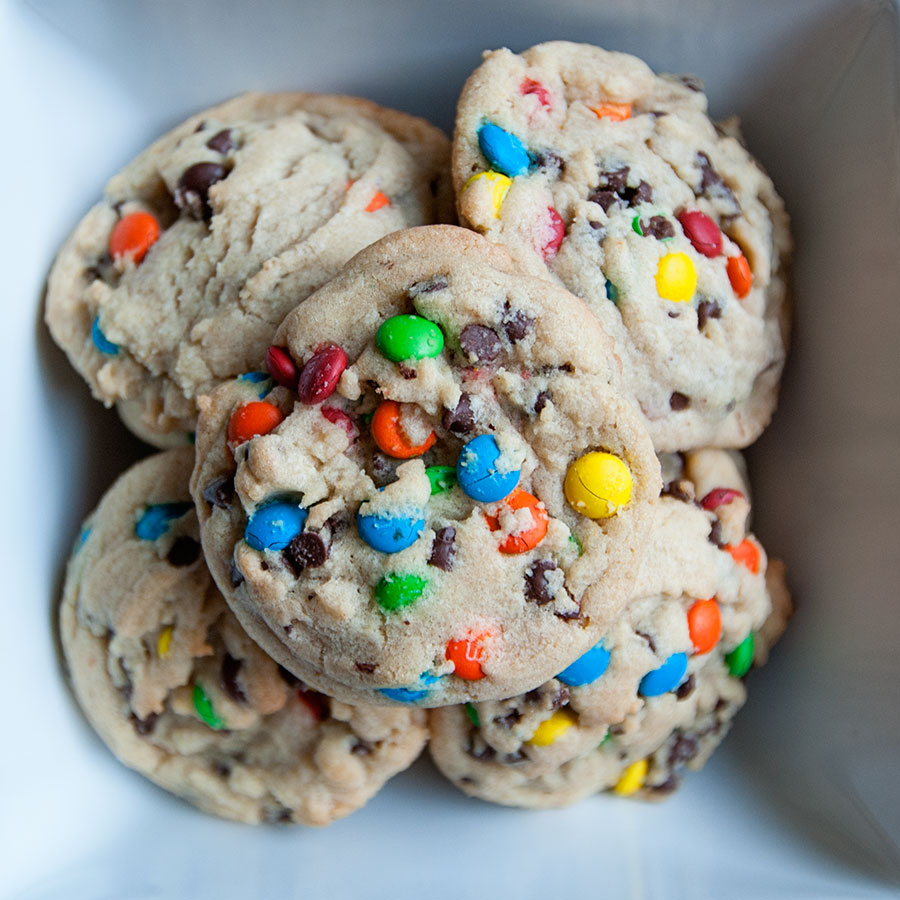 The end of April is here, final exams are in full swing, and law school is winding down for good. Throughout my three years of law school I've brought many of the treats I've made to school. Hungry and stressed out students are always a captive audience for sugary treats. My friends and fellow students would see the pink bakery boxes and swoop in like vultures, which was always kind of funny.
For the most part, I have not enjoyed law school. It's been a steady hum of anxiety, stress, work, and very little fun… and very little sleep. But a small part of me is sad to see it (and my higher education experience) come to an end. So here's to the approximately 3,280 cookies I've baked and to everyone who ate them!
Soft M&M Cookies
Recipe source: Picky Palate
Print Recipe
1 stick unsalted butter, softened
1/2 cup granulated sugar
1/2 cup packed light brown sugar
1 large egg
1/2 teaspoon pure vanilla extract
1-1/2 cups all-purpose flour
3 Tablespoons instant vanilla pudding mix
1/2 teaspoon baking soda
1/2 teaspoon kosher salt
3/4 cup mini chocolate chips
1 or 1-1/2 cups mini M&Ms (if you don't have the minis, regular sized will work)
1. Preheat oven to 350 degrees F. and line a large baking sheet with a silpat liner or parchment paper.
2. In a large mixing bowl cream your butter and sugars until well combined.
3. Add your egg and vanilla mixing to combine.
4. Add your flour, pudding mix, baking soda and salt, stirring to combine.
5. Add chips and m and m's stirring to combine.
6. With a medium cookie scoop, place dough 1 inch apart from each other. Bake for 10-12 minutes until cooked through. Let cool on cookie sheet for 10 minutes before transferring to cooling rack.
Makes about 2 dozen cookies.