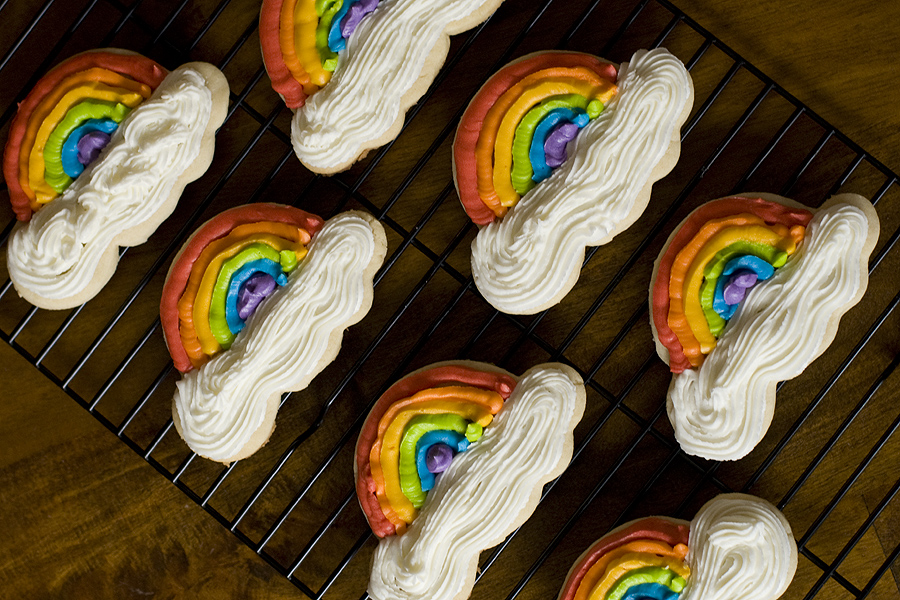 I will admit: sometimes I just want to bake cute things.
I got this cloud and rainbow cookie cutter for Christmas and couldn't wait to use it! Usually I find cutout cookies to be incredibly tedious — a task that should be reserved only for special times of the year, like Christmas. But I'm willing to break my rules here — because holy cute rainbows! I've always loved rainbows, ever since I was a little girl. I remember BEGGING my mom to let me have rainbow wallpaper in my room. She denied that request (and my later teenage and young adult self would thank her for that decision). Rainbows are happy and they remind me so much of my childhood. Hope you are all having a wonderful Monday!
Rainbow Cut-Out Cookies (aka Vanilla Almond Sugar Cookies)
Recipe source: Bake at 350
Print Recipe
3 cups all-purpose flour
2 teaspoons baking powder
1 cup sugar
2 sticks (salted) butter, cold
1 egg
3/4 teaspoon pure vanilla extract
1/2 teaspoon pure almond extract
1. Preheat oven to 350.
2. Combine the flour and baking powder, set aside. Cream the sugar and butter. Add the egg and extracts and mix. Gradually add the flour mixture and beat just until combined, scraping down the bowl, especially the bottom.
3. The dough will be crumbly, so knead it together with your hands as you scoop it out of the bowl for rolling. (She's not kidding – it is c-r-u-m-b-l-y! Don't let that scare you though. Just warm the dough with your hand and knead it, it will come together)
4. Roll onto a floured surface and cut into shapes. Place on parchment lined baking sheets and bake for 10-12 minutes. Let sit a few minutes on the sheet, then transfer to a cooling rack.
*I used piping bags to decorate the rainbows. The frosting was colored with AmeriColor food coloring. Each of my cookies was a bit different, as I tried to experiment with the clouds. Also, I really, really need to work on my piping skills – the rainbow colors were a little shaky! :)