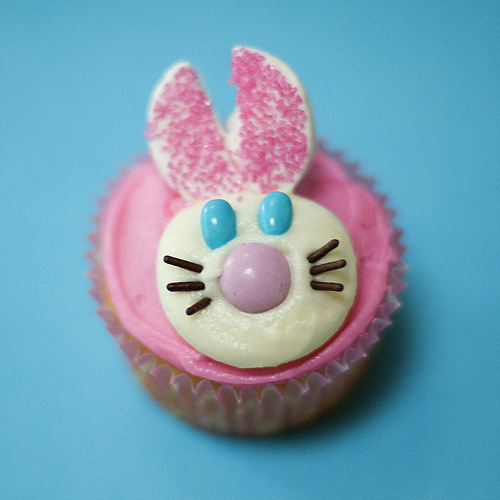 Supplies needed:
– Pink-tinted frosting
– White frosting
– Pink M&Ms
– Blue M&Ms or blue chocolate-covered sunflower seeds
– Chocolate jimmies
– Pink sprinkles
– Large marshmallows
1. Frost a cupcake with pink frosting.
2. Pipe a large circle of white frosting onto the cupcake.
3. Place a pink M&M and blue M&Ms or sunflower seeds onto the white frosting to serve as the nose and eyes. Add the chocolate jimmies as whiskers.
4. Slice a large marshmallow so that you have a piece that is about 1/4″ thick. Cut the marshmallow down the middle and separate (for the ears). Coat the sticky side of the marshmallow in pink sanding sugar. Attach the marshmallow "ears" to the cupcake with a toothpick.