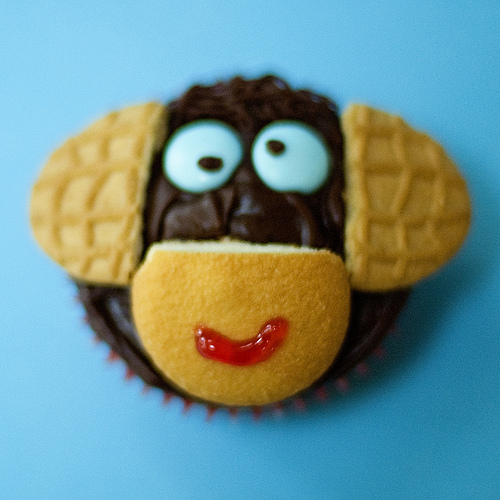 (sorry that this photo is a little blurry!!)
Supplies needed:
– Chocolate frosting
– Light blue M&Ms
– Red frosting
– Nilla wafers
– Peanut butter wafer cookies
1. Frost a cupcake with chocolate frosting.
2. Cut about 1/4 of the Nilla wafer off & place it onto the cupcake. Cut the peanut butter wafers to serve as ears and "glue" them on with chocolate frosting.
3. Place the blue M&Ms on the cupcake and pipe a dot of chocolate frosting on each.
4. Pipe a red smile onto the Nilla wafer.
5. Pipe some "hair" for the monkey above the eyes, if you'd like.