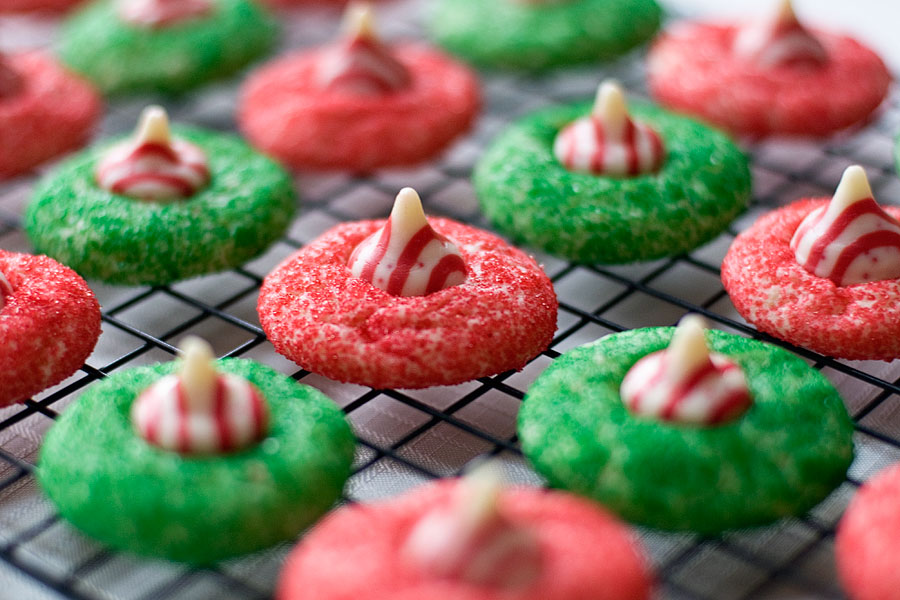 I've been spending some time in my hometown and made a batch of these when I was at my parents' house. My mom took them to work the next day and the cookies disappeared within a few hours. I think the rate of cookie consumption/disappearance is a great barometer for the quality of what you make. I even had one of the admin assistants ask for the recipe (hi, Karen!). So I think it's safe to say these cookies were a big success. I hope you give them a try and enjoy them as much as I did!
Candy Cane Blossoms
Recipe source: Baked Perfection
Print Recipe
1 bag Hershey's Kisses Candy Cane Kisses
1/2 cup butter, softened
1 cup granulated sugar
1-1/2 teaspoons vanilla extract
1 egg
2 cups all-purpose flour
1/4 teaspoon salt
1/4 teaspoon baking soda
2 Tablespoons milk
Red and green colored sugar
1. Preheat over to 350 degrees Fahrenheit. Remove wrappers from candies (approx. 35)
2. Beat butter, sugar, vanilla, and egg in large bowl until well blended. Stir together flour, baking soda and salt; add alternatively with milk to butter mixture, beating until well blended.
3. Shape dough into 1 inch balls. Roll in red and/or green colored sugar. Place on parchment-lined cookie sheet.
4. Bake 8 – 1o minutes or until edges are lightly browned and cookies is set. Remove from oven; cool 2 to 3 minutes. Press candy piece into center of each cookie. Remove from cookie sheet to wire rack. Cool completely.
Yields approximately 35 cookies