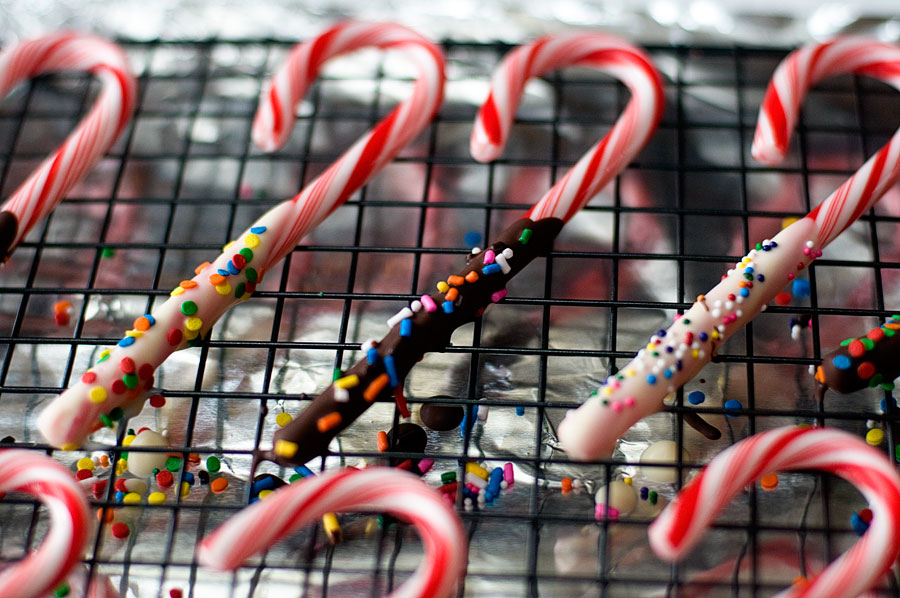 Who loves coffee? Who loves chocolate stir sticks for their coffee? You know, those little sticks of candy (cinnamon, orange, lemon, or mint) covered in chocolate? When I was a little kid (and unwise to the joys of coffee) I used to eat the sticks — but only the mint or cinnamon. I could not be bothered with the silly citrus flavors (the same is true to this day).
I thought I'd try to make something similar for the holidays and I immediately thought of chocolate-covered candy canes. You can use these in your coffee or you can eat them for what they are — CANDY!
Yield: 12 candy canes
Chocolate Coated Candy Canes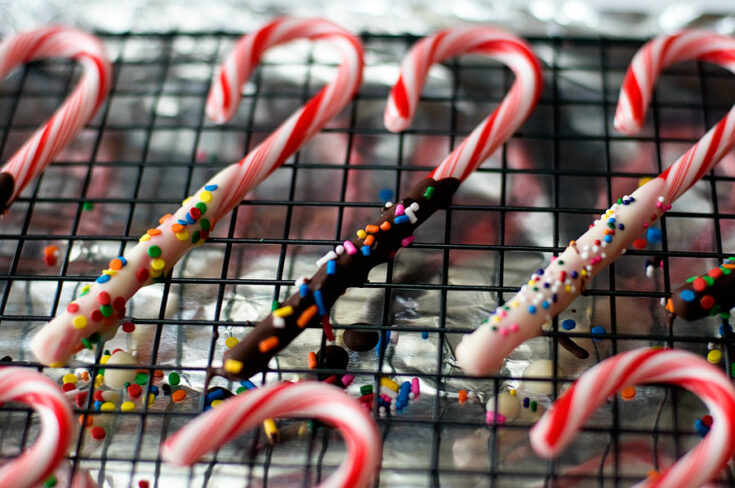 Total Time
1 hour
15 minutes
Ingredients
1 box candy canes
1-2 cups semisweet chocolate chips or white chocolate chips (or both!)
1 Tablespoon shortening (this will thin the chocolate a bit)
Sprinkles for decorating (optional)
Instructions
1. Melt the shortening and chocolate of your choice in a double-boiler or a microwave-safe bowl. If you are using the microwave, be careful not to burn the chocolate. After the chocolate is melted and smooth, let it cool down just a bit (working with piping hot melted chocolate is never easy..)

2. While the chocolate is cooling off, unwrap all of your candy canes.

3. Dip the bottom of each candy cane into the chocolate and coat. Allow the excess chocolate to drip off, then place the candy cane on a wire rack. Be sure that you have a piece of foil underneath the wire rack to collect the bits of chocolate that will drip off.

4. Decorate with sprinkles or leave the candy canes plain – it's up to you!

5. Allow the chocolate-coated candy canes to cool and set for about an hour.