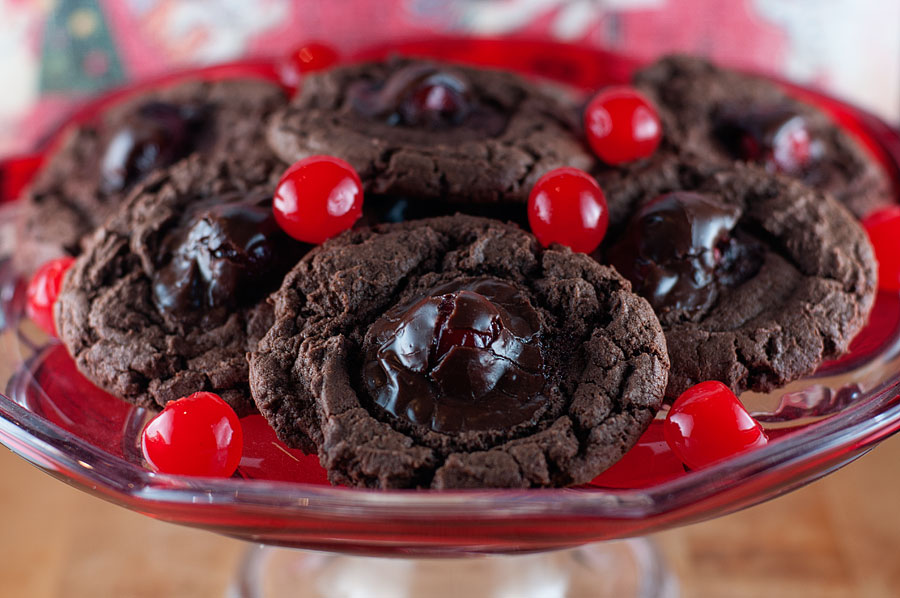 These cookies remind me of cherry cordial candies — you know, the red boxes of Queen Annes that come to store shelves every year at Christmastime. My mom hates nothing more than cherry cordial candies. One year we wrapped a box and gave it to her as a joke gift — just because my Dad and I can be real pains in that way. :)
I love anything having to do with cherries, so these cookies were great in my book!
Chocolate-Covered Cherry Cookies
Recipe source: Christmas Cookies 2012 Magazine
Print Recipe
1-1/2 cups all-purpose flour
1/2 cup Dutch-processed cocoa
1/4 teaspoon baking powder
1/4 teaspoon baking soda
1/4 teaspoon salt
8 Tablespoons unsalted butter, softened
1 cup sugar
1 large egg
1-1/2 teaspoons vanilla extract
1 cup semisweet chocolate chips
1/2 cup sweetened condensed milk
About 30 maraschino cherries + 2 Tablespoons cherry juice reserved
1. Preheat oven to 350F and line baking sheets with parchment paper.
2. Whisk flour, cocoa, baking powder, baking soda, and salt together in bowl. Using stand mixer fitted with paddle, beat butter and sugar on medium-high speed until light and fluffy, about 2 minutes.
3. Beat in egg and vanilla until incorporated. Reduce speed to low, slowly add flour mixture and mix until dough forms.
4. Heat chocolate chips and condensed milk in saucepan over low heat until chips are melted – about 5 minutes. Off heat, stir in reserved cherry juice. Cover and keep warm.
5. Working with 2 Tablespoons dough at a time, roll into balls and space them 2 inches apart on prepared sheets. Using thumb, make indentation in center of each ball. Place 1 cherry in center of each cookie, then top with 1 teaspoon warm chocolate mixture.
6. Bake until cookies are just set — about 10-12 minutes. Let cookies cool on sheets for 5 minutes, then transfer to wire rack. Repeat with remaining dough.
Makes about 2 dozen cookies.