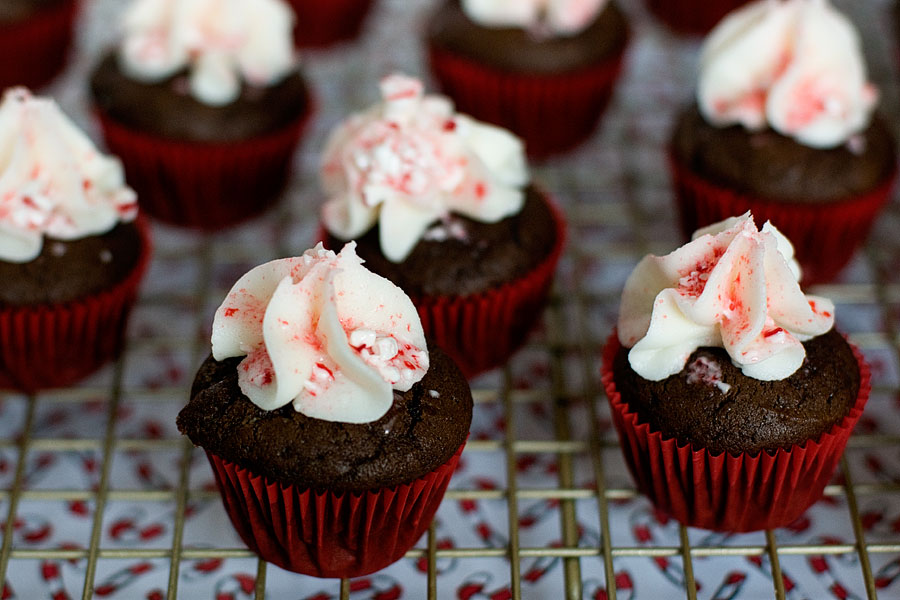 I have a special affinity for mini cupcakes. I wish more people would make them and I wish more bakeries would sell them. They're easier to eat and you can mentally trick yourself into thinking that you can eat more mini cupcakes than regular-sized cupcakes (kind of like the mini candy bar phenomenon at Halloween). I also have a special affinity for the combination of mint + chocolate — and then to throw in cream cheese frosting? SOLD! Paula Deen's recipes never fail me and this one is no exception.
Chocolate Peppermint Cupcakes
Recipe source: Paula Deen
Print Recipe
3/4 cup butter, softened
1-1/3 cups sugar
2 large eggs
1 teaspoon peppermint extract
2 cups all-purpose flour
3/4 cup unsweetened cocoa powder
1-1/2 teaspoons baking soda
1/4 teaspoon salt
1 cup buttermilk
1/2 cup sour cream
Peppermint Cream Cheese Frosting:
8 oz cream cheese, softened
1/2 cup butter, softened
1 teaspoon peppermint extract
6 cups powdered sugar
1. Preheat oven to 350F. Line mini muffin pans with liners or non-stick spray.
2. In a large bowl, beat butter and sugar at medium speed with a mixer until fluffy. Add eggs, one at a time, beating well after each addition. Beat in peppermint extract.
3. In a medium bowl, combine flour, cocoa powder, baking soda, and salt. Gradually add to butter mixture alternately with buttermilk, beginning and ending with flour mixture, beating until just combined after each addition. Stir in sour cream. Spoon batter evenly into prepared muffin cups. Bake for 12-15 minutes, or until a tester comes out clean.
4. Cool completely on wire rack.
5. While cooling, make the frosting. In a large bowl, beat cream cheese, butter, and peppermint extract at medium speed until creamy. Gradually add powdered sugar, beating until smooth.
6. Frost cupcakes and garnish with crushed candy canes or sprinkles.
Makes approximately 48 mini cupcakes — or 24 full-size cupcakes.