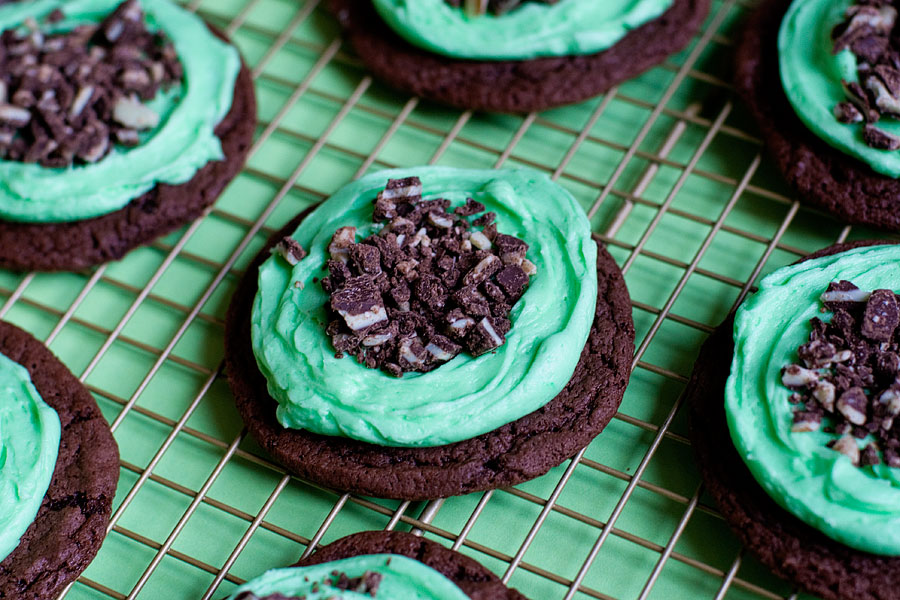 You want to know what these cookies taught me? To bow down to the GREATNESS that is my double boiler. I was short on time and didn't use my double boiler. As a result, these cookies are missing a chocolate ganache. The crushed Andes mints were supposed to be sitting in an ooey, gooey bed of melted chocolate. I took a shortcut and attempted to microwave the chocolate. Mistake. Ohhhhh, mistake. Never again! What I ended up with, even though I was SO careful, was burned and ugly chocolate.
Instead of throwing my hands up and pitching a fit, I just decided that this batch wasn't going to have the ganache. They were delicious anyway and it's a lesson you'll learn again and again if you bake: shit will go wrong.
So if you, lovely reader, decide to make these… use a double-boiler!
Grasshopper Cookies
Recipe source: Your Cup of Cake
Print Recipe
Cookies:
1 Box Devil's Food Cake mix
2 eggs
1/2 C. butter, melted
1 tsp. vanilla extract
3 Tbsp. brown sugar
Mint Frosting:
3/4 C. butter, softened
1 1/2 tsp. peppermint extract
2-3 C. powdered sugar
milk, if needed
green food dye
Chocolate Glaze:
1 1/2 C. chocolate chips
4 Tbsp. butter
Andes Mint Candies, roughly chopped
1. Preheat oven to 350 degrees and line cookie sheets with parchment paper.
2. Combine cake mix, eggs, butter (make sure you let it cool a little so it doesn't cook the eggs), vanilla and sugar.
3. Make dough balls a little large than a Tablespoon and place on cookie sheets to bake. (Pat each dough ball down a little bit because cake mix cookies tend to bake up tall.)
4. Bake for 7-9 minutes and let cool on cooling racks.
Mint Frosting:
1. Beat butter for 2 minutes.
2. Add peppermint extract and slowly add it powdered sugar until you reach your desired consistency.
3. Add 1-2 Tablespoons milk if it gets too thick.
4. Add green dye for color if you want.
Chocolate Glaze:
1. Melt chocolate chips and butter together in a microwave proof bowl. Zap for about 30 seconds, then stir, then microwave in 10 second increments and stir until smooth. (Annie's note: USE A DOUBLE BOILER! Or don't… whatever… I'm just sayin'…)
2. To assemble – pipe on frosting, smooth over with a knife, spoon on your glaze and top with peppermint candies.