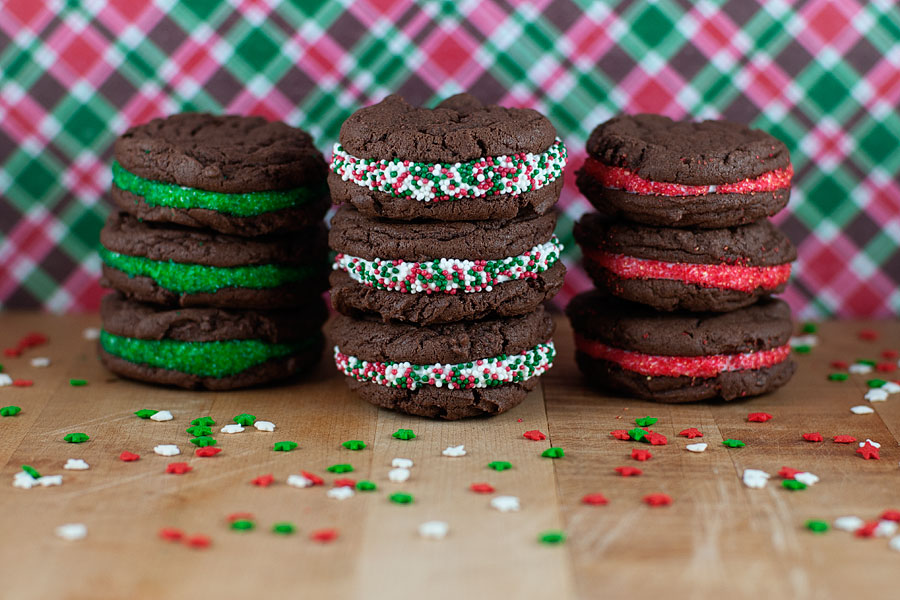 We're over halfway through the marathon of Christmas posting! Are you getting tired of all of these posts yet? ;) These cookies, oh my god. Homemade Oreos, much like regular Oreos, are one of my favorite things. Throw in a mint flavor? YES! And you can spruce them up a little by adding sprinkles to the frosting filling.
Homemade Peppermint Oreos
Recipe source: I Heart Naptime
Print Recipe
Cookies:
1 box devils food cake
1 egg
1 stick of butter softened
Frosting:
1 stick unsalted butter, at room temperature
2 cups powdered sugar
1 Tablespoon milk, or heavy whipping cream
1/4 teaspoon vanilla extract
1/2 teaspoon peppermint extract
1. Preheat oven to 350F and line baking sheets with parchment paper.
2. Combine egg and butter in a large bowl. Mix until combined. Pour in devil's food cake and mix until the batter is smooth (about 2 min).
3. Roll dough into a ball and push flat onto a lined cookie sheet.
4. Bake for 6-8 minutes. Remove to cooling rack and allow cookies to completely cool.
5. For frosting: Mix together butter. Next add milk, vanilla and peppermint extract. Then slowly add powdered sugar and beat until fluffy.
6. Frost one cookie on the BOTTOM and then sandwich another cookie on top. Use a lot of frosting. Go crazy. Then, if you want to decorate, dip the exposed frosting into any type of sprinkle that you'd like to use.