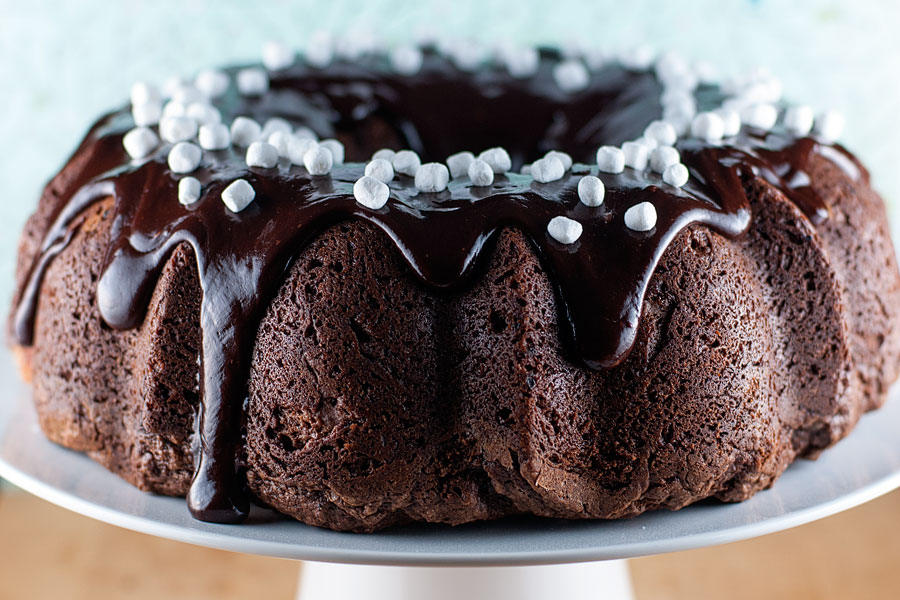 OMG, these mini marshmallow bits are the cutest things. It's like being able to eat a handful of the marshmallow bits from Lucky Charms cereal! I've only been able to find the mini marshmallow bits at Target. Have any of you found them at other retailers? I've checked every grocery store in the greater Milwaukee area (or so it seems) — but Target is the only place I've had success.
Hot chocolate is one of the world's coziest drinks. What kid doesn't have a memory of coming in after playing in the snow — and making a big cup of cocoa with mom? Well, I suppose those of you that grew in warm climates may not have had this memory, but roll with me here. Hot chocolate is a quintessential part of winter — and here it is in cake form!
Hot Chocolate Bundt Cake
Recipe source: Cookies & Cups
Print Recipe
2-1/4 cups flour
1 teaspoon baking soda
1/4 cup cocoa powder (I used Hershey's Special Dark)
1/2 cup dry hot chocolate mix
1 cup butter, room temperature
1 (8 oz) block cream cheese
2 cups sugar
3 oz milk chocolate, melted
5 eggs
2 teaspoons vanilla
Glaze:
6 oz milk chocolate
2 Tablespoons dry hot chocolate mix
1/4 cup heavy cream
1 Tablespoon butter
1. Preheat oven to 325F. Spray 10″ bundt pan with baking spray.
2. Sift together flour, baking soda, cocoa powder and hot chocolate mix. Set aside.
3. In large mixing bowl (or stand mixer) cream together you butter and cream cheese until smooth. Add in sugar and beat on medium about 2 minutes until light and fluffy.
4. In microwave safe bowl, melt milk chocolate on 50% power in 30 second increments, stirring after each. Add to butter mixture and mix until incorporated. Add in eggs, one at a time, mixing well in between each and then add vanilla.
5. Turn mixer to low and slowly add in your sifted dry ingredients. Mix ingredients until incorporated. Don't over mix.
6. Fill your pan with batter and bake for 1 hour, or until toothpick comes out clean. Let cool in pan and then transfer to wire rack.
Glaze:
1. In small saucepan over low heat melt milk chocolate, 2 Tablespoons dry hot chocolate mix, heavy cream and butter together until melted, stirring frequently.
2. Remove from heat and let sit for 10 minutes.
3. Pour over cooled cake. Garnish with mini marshmallow bits.