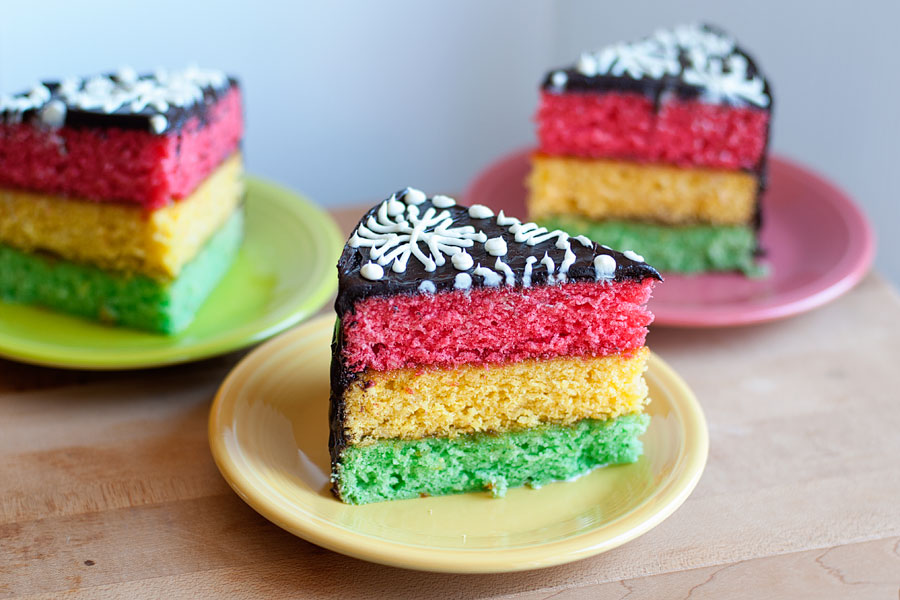 Two winters ago, I featured one of my all-time favorite cookies — the 7 Layer Cookie (aka, the Italian Rainbow Cookie). I know what you may be thinking. It looks more like a bar than a cookie. I can't figure out why they're called "cookies" either. I HIGHLY encourage you to try making the 7 Layer Cookies — because they are just amazing.
The bummer about making 7 Layer Cookies is that they take all day to make. A lot of hurry-up-and-waiting. If you want something faster that tastes similar, try this cake! It will be sure to impress at your holiday party!
Italian Rainbow Cookie Cake
Recipe source: Always Order Dessert
Print Recipe
3 sticks butter, softened
1-1/2 cups granulated white sugar
6 large eggs
12 ounces of almond paste, grated with a box grater
1 Tablespoon pure almond extract
1 cups milk
3 cups all-purpose flour, sifted
3 teaspoons baking powder
red food coloring
green food coloring
yellow food coloring
1/4 cup seedless raspberry jam
1/4 cup apricot preserves [note: I used apricot jam for both layers since I didn't have raspberry]

For the ganache:
1 cup heavy cream
12 oz semisweet chocolate
1. Preheat oven to 350F.
2. In the base of an electric mixer, cream the butter and sugar until fluffy. About 5 minutes. Add the eggs and continue to beat for 3 more minutes. Add the grated almond paste, almond extract, and milk, and beat until well combined.
3. In a separate bowl, sift together the flour and baking powder then slowly add to the almond paste batter and mix until combined.
4. Separate the mixture evenly into three bowls. Dye each bowl a different shade (one green, one yellow, one red).
5. Prepare three 9″ round baking pans. Butter and flour them — or spray generously with non-stick spray.
6. Pour each color of the mixture into individual pans making sure to smooth out the top. Bake for approximately 20-25 minutes or until a cake tester inserted into the center comes out clean. Remove from the oven and let cool for 5 minutes before inverting onto a cooling rack.
7. While the cake is cooling, prepare the ganache by heating 1 cup of heavy cream in a small saucepan just until bubbles start to form around the edge. Turn off the heat and pour over the chocolate in a large bowl. Stir continuously until melted completely and smooth. Let cool to room temperature.
Assembling the cake:
1. Spread the jam onto one of the cakes (I started with the green cake). Top with another cake (yellow, in my case). Spread this cake with more jam. Top with the final cake (pink).
2. Use a spoon to pour the ganache over the cake, using an offset spatula to even the sides and make sure the cake is completely covered. Use as much ganache as you need. Let sit at room temperature in a cool spot for 1-2 hours until completely set. Decorate the cake as desired.