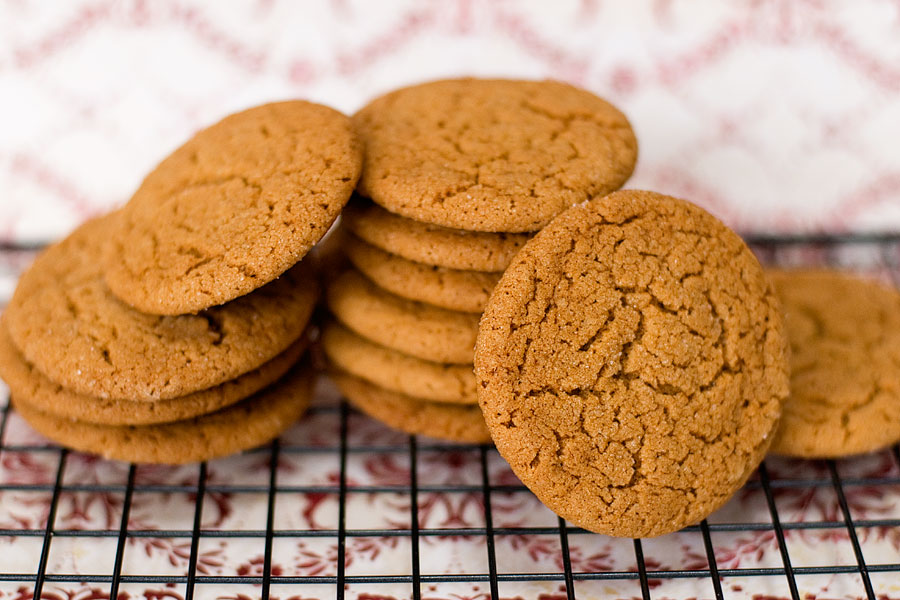 Oh, molasses. Most children today have no idea what it is. The Molasses Swamp has disappeared from the Candy Land board long ago. Molasses, in all its ooey gooey glory, is pretty tasty. I just wish it wasn't such a pain to measure out! My friend Stefanie (we go waaaaay back — way back to elementary school!) gave me this recipe two Christmases ago. It's a favorite recipe in her family and I definitely wanted to give it a try this year.
Stefanie is pretty awesome. We've known each other for almost 20 years. We used to be neighbors. We used to carpool to high school together. We still love and hate the same people and wax nostalgic about the fun we had during our childhood. Stefanie also has a great dad — and one of these days I'm going to surprise him with some fresh chocolate cookies on his doorstep.
Molasses Cookies
Print Recipe
1 cup sugar
2 cups flour
3/4 cup butter
1 egg
2 teaspoons baking soda
4 Tablespoons molasses
1/2 teaspoon salt
1 teaspoon cinnamon
1. Preheat oven to 350F and line a cookie sheet with parchment paper.
2. Cream butter and sugar; add egg and molasses, blend well. Add dry ingredients and mix well.
3. Form into 1-inch balls, roll in sugar. Place the sugar-coated ball of dough onto the cookie sheet and flatten slightly with the bottom of a glass.
4. Bake 10-12 minutes; cool completely on  wire rack.