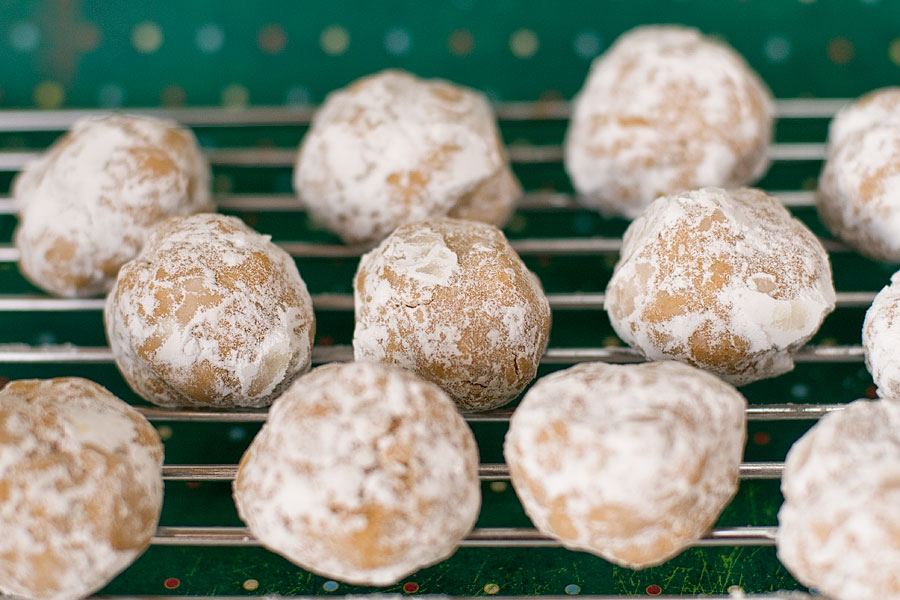 Pfeffernuesse translates to "pepper nuts" in German. I'm from Wisconsin — a state with an incredibly large number of German settlers. It always bugs me a bit when people say "I'm Irish" or "I'm German". No, you're American if you were born here and if your parents were born here. I do think it's important to acknowledge and respect your heritage. My blood is probably 99% German or Swiss, so I thought I'd make a traditional German cookie for my last post of this project.
I'll be honest, I'm not a huge fan of pfeffernuesse cookies. They're unique and a love-them-or-loathe-them type of food. But I always try to bake a variety of treats on this blog (I can't just make cute cupcakes ALL the time, right?!). There is no perfect way to make these cookies and every recipe you read has a slightly different twist. Some recipes require pepper. Some require cloves. Some required nutmeg and anise. Some require cinnamon. If you're a fan of any of the ingredients listed above, give these a try!
Pfeffernuesse Cookies
Print Recipe
1/2 cup butter, softened
1/4 cup sugar
1/4 cup packed brown sugar
1/4 cup molasses
1 Tablespoon water
1 teaspoon instant coffee granules
1 egg
1 teaspoon anise extract
1/2 teaspoon baking soda
1/2 teaspoon ground cinnamon
1/4 teaspoon ground white pepper
1/4 teaspoon salt
2-1/2 cups all-purpose flour
+ powdered sugar for dusting
1. Combine butter, sugar, brown sugar, and molasses in large bowl; beat at medium speed, scraping bowl occasionally until creamy.
2. Combine water and coffee granules in small bowl; stir until dissolved. Add coffee mixture and all remaining ingredients except flour; continue beating until well mixed. Reduce speed to low; add flour, beat until well mixed. Cover and refrigerate for 30 minutes.
3. Heat oven to 350F. Roll dough into teaspoon-sized balls and place on parchment-lined baking sheet. Bake for 8-10 minutes or until slightly browned.
4. Allow to cool for a few minutes; roll warm cookies in powdered sugar and cool completely on wire rack.