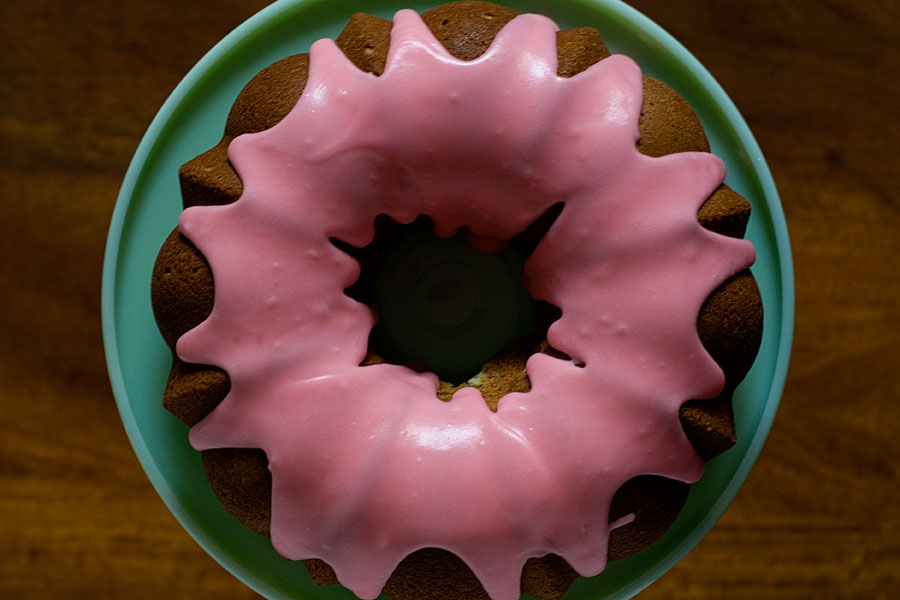 Okay, pistachio and cherry? This seems more spring-like than winter. But hey, it's green and pink and kind of looks like Christmas. So I'm rolling with it. And, as you will find out in the coming days, cherries are one of my favorite fruits. This cake was great. It was incredible moist because a box mix was used. I know there's a pretty big camp of bakers out there who despise using box mixes — but I am not one of those people. They serve a purpose and always give me great results. This cake is a delicious example!
PS: Sorry that the above photo is so dark. It's challenging to take food photos in the winter, because the sun sets at 2pm. Or so it seems!
Pistachio Cherry Bundt Cake
Recipe source: Tablespoon
Print Recipe
1 box Betty Crocker pound cake mix
1 (3.4 oz) package pistachio flavored instant pudding mix
2/3 cup water
1/2 stick butter, softened
2 eggs
1/2 teaspoon almond extract
green food coloring
2 cups powdered sugar
3 tablespoons maraschino cherry juice
2 to 3 tablespoons milk
2 tablespoons butter, melted
1. Heat oven to 350F. Grease a 12-cup bundt pan with shortening, then lightly flour. Set aside.
2. In a large bowl or bowl of a stand mixer, beat cake mix, pudding mix, water, butter, eggs, almond extract and about 8 drops green food coloring on low speed 30 seconds. Increase speed to medium and beat 2 minutes.
3. Pour batter into prepared bundt pan (batter will be very thick). Spread batter evenly.
4. Bake 38 to 43 minutes or until a toothpick inserted in the center comes out clean. Cool cake 10 minutes in pan, then remove and cool completely on a cooling rack.
5. Meanwhile, make the glaze: In a medium bowl, stir together powdered sugar, cherry juice, milk and butter until a glaze forms (add more milk or powdered sugar as needed to achieve proper consistency).
6. Pour glaze evenly over fully cooled cake. Let sit a few minutes to harden.