Hey everyone! Welcome to the 12 Days of Christmas baking extravaganza. For the first twelve days of December, there will be a new recipe posted — most of which will be specific to the holidays. December is one of my favorite months and I wish it lasted more than 31 days! Let's start simple. Everybody loves pretzel Rolo turtles — and they are ridiculously EASY to make.
Yield: About 60 turtles
Pretzel Rolo Turtles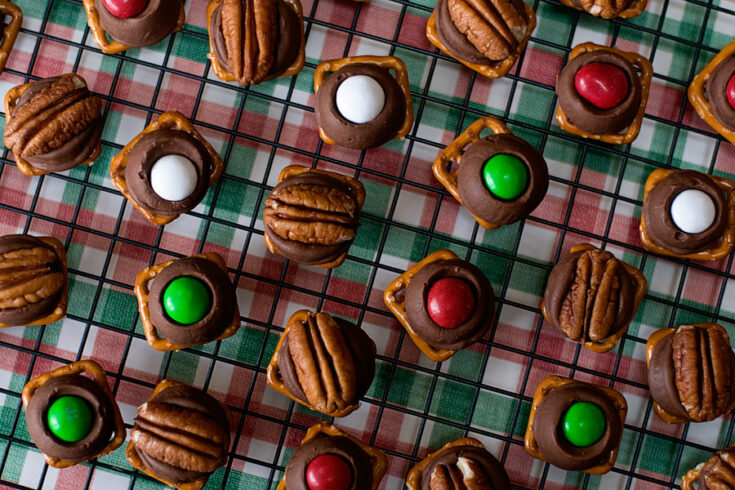 EASY and quick dessert for your holiday gathering, kid's party, or office treat!
Total Time
1 hour
24 minutes
Ingredients
1 bag square pretzels
1 bag Rolos
Pecans, M&Ms, or whatever type of candy you would like to use
Instructions
1. Line a cookie sheet with tin foil and preheat oven to 300F.

2. Arrange the pretzels on the cookie sheet, fit as many on the sheet as you'd like. Place an unwrapped Rolo on top of each pretzel. Bake for 4 minutes or until the Rolo begins to soften (do NOT let it melt entirely!)

3. Remove from oven; top with M&M or pecans. Eat them warm or let them cool – your call!

Can be stored for days in an airtight container. Be sure to let them cool at least 1 hour before storing.
Notes
Your yield will depend on how many pretzels/Rolos/etc you have to work with.