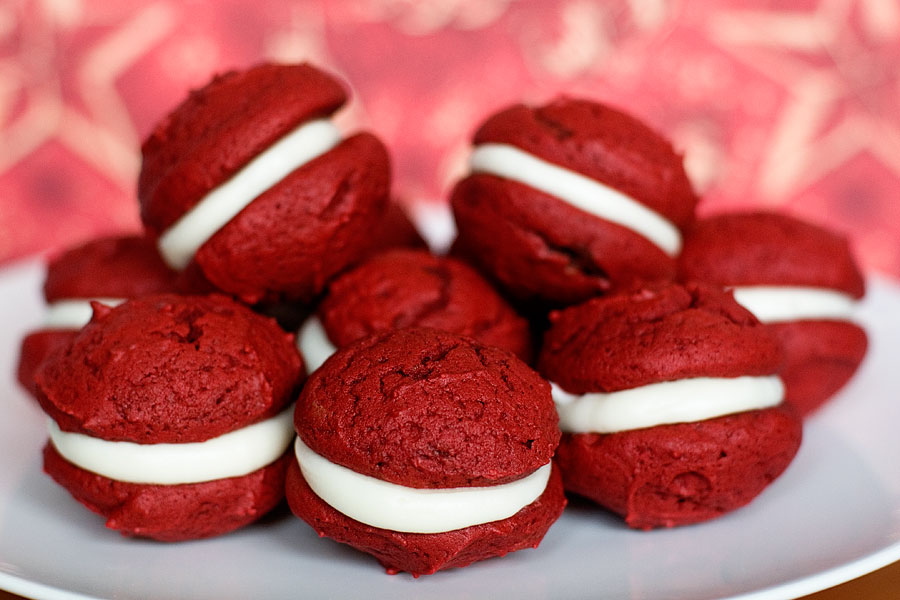 I know that red velvet isn't necessarily linked to Christmas… but hey, it looks the part! It's RED. I've made red velvet cake and cupcakes on this blog, so I thought I'd round it all out by making whoopie pies. Mmmm mmm. Every time I make red velvet anything, I think of my friend Beth. She loves red velvet and has even developed a rating system — taking into account the frosting-to-cake ratio, flavor, moisture, etc of various red velvet cakes that she tries. I love that level of dedication and enthusiasm toward baked goods!
Red Velvet Whoopie Pies
Print Recipe
1/2 cup butter, softened
1 cup packed brown sugar
2 Tablespoons unsweetened cocoa powder
1/2 teaspoon baking soda
1 egg
1 teaspoon vanilla
2 cups all-purpose flour
1/2 cup buttermilk
1 oz. bottle red food coloring
Filling:
6 oz. cream cheese, softened
3 Tablespoons butter, softened
1/2 teaspoon peppermint extract
3 cups powdered sugar
Milk (as needed)
1. Preheat oven to 375F. Line a cookie sheet with parchment paper; set aside.
2. In a large bowl, beat 1/2 cup butter with a mixer for 30 seconds. Add the brown sugar, cocoa powder, baking soda, and salt. Beat until combined, scraping bowl occasionally. Beat in egg and vanilla until combined. Alternately add flour and buttermilk, beating on low speed after each addition just until combined. Stir in red food coloring.
3. Spoon dough from a rounded measuring teaspoon 2 inches apart onto prepared cookie sheets. Bake for 7-9 minutes or until edges are set. Cool on cookie sheet for 2 minutes; transfer cookies to wire rack and cool.
4. Making frosting; in a large bowl combine cream cheese, 3 TB butter, and peppermint extract. Beat with a mixer on medium speed until light and fluffy. Gradually beat in 3 cups powdered sugar. Add milk, if needed, to make a filling of spreading consistency.
5. Spread filling onto flat sides of half of the cookies. Top with remaining cookies, flat side down, pressing lightly together.