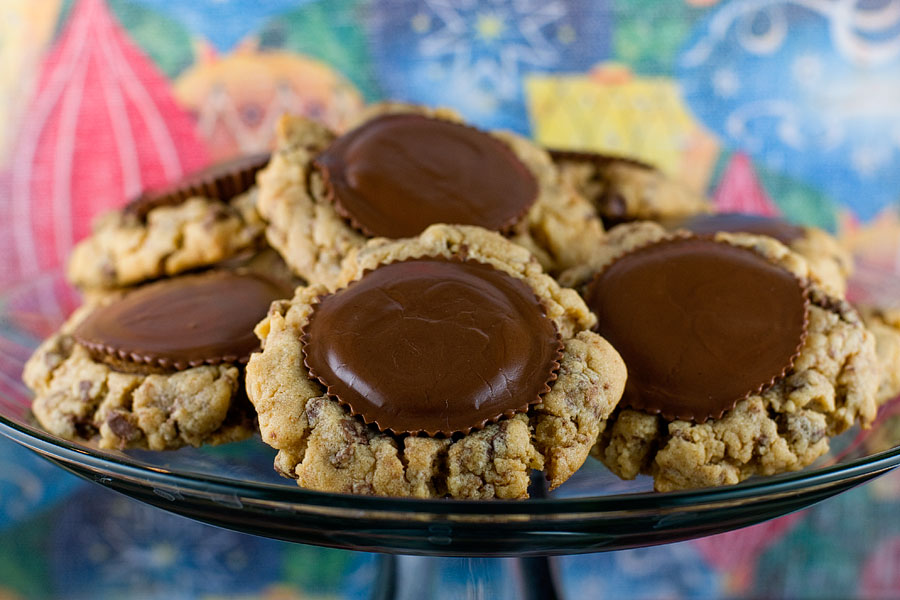 Ohhhhhhh, baby. These are phenomenal. If you like peanut butter, that is. The Reese's peanut butter cup is one of man's greatest creations. Right? A Reese's peanut butter cup sitting on top of a big, warm cookie? Even better.
Reese's Peanut Butter Cup Cookies
Recipe source: The Novice Chef
Print Recipe
1 3/4 cups all-purpose flour
3/4 teaspoon baking soda
1/2 teaspoon salt
1/2 cup (1 stick) unsalted butter, softened
3/4 cup peanut butter
1/2 cup white sugar
1/2 cup packed brown sugar
1 egg
1 teaspoon vanilla extract
1 (8 oz) bag Reese's Mini Peanut Butter Cups
18 Reese's Peanut Butter Cups, unwrapped
1. Preheat oven to 350F. Line two baking sheets with parchment paper.
2. Combine the flour, baking soda and salt in a medium bowl. Set aside.
3. In the bowl of a stand mixer, beat the butter, peanut butter and sugars, until light and fluffy. Add in the egg and vanilla.
4. Gradually add in the flour mixture on low speed. Stir until dough forms. Then stir in Reese's Mini Peanut Butter Cups by hand.
5. Using your hands, form balls of dough with 2 heaping tablespoons of dough. Gently flatten cookie dough (to form a disk shape) and place on prepared baking sheets.
6. Bake for 8 minutes and remove from oven. Press a Reese's Peanut Butter Cup into the center of each cookie. Bake cookies for 3 minutes more. Remove from oven and let cool for 5 minutes before transferring cookies to a wire rack to cool.
Makes about 18 cookies.