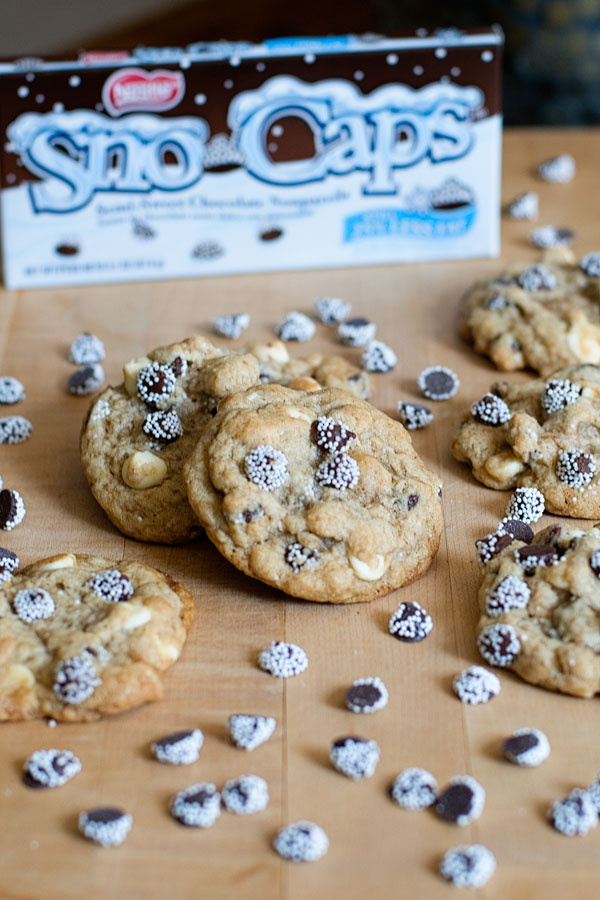 The 12 Days of Christmas begins today on With Sprinkles on Top! A few years ago I posted a recipe each day for the first twelve days of December. Last year I didn't have time (thanks, law school). But this year, due to some better planning (like making some of these treats back in September…), December will be filled with goodies on this blog.
I'm kicking things off with this recipe for Sno-Cap cookies. Sno-Caps are one of my favorite candies. Well, I love all nonpareils, really. Sno-Caps are my go-to treat at the movie theater and I love that they feature dark chocolate.
These cookies would be great for a cookie exchange — as they a just a little twist on the classic chocolate chip cookies. And, come on, Sno-Caps are adorable and look like winter. :) Check back tomorrow for another recipe!
Sno-Cap Cookies
Recipe source: Sally's Baking Addiction
Print Recipe
3/4 cup (1.5 sticks) unsalted butter, softened to room temperature
3/4 cup dark brown sugar
1/4 cup granulated sugar
1 large egg, at room temperature
2 teaspoons vanilla extract
2 cups all-purpose flour
2 teaspoons cornstarch
1 teaspoon baking soda
1/2 teaspoon salt
1/2 cup semi-sweet chocolate chips
1/2 cup white chocolate chips
1/2 cup Sno-Caps (Walgreens is a great place to find them)
1. Line an ungreased cookie sheet with parchment paper or silicone baking mat. Set aside.
2. In a large bowl using a hand-held mixer or stand mixer with paddle attachment, cream the butter and sugars together on medium speed until fluffy and light in color. Mix in egg and vanilla. Scrape down the sides as needed.
3. On low speed, mix in flour, cornstarch, baking soda and salt. Stir in chocolate chips. Dough will be thick and sticky. Chill for at least 30 minutes (or up to 3 days).
4. Preheat oven to 350F.
5. Drop balls of dough onto cookie sheet (about 1.5 Tablespoons of dough per cookie) OR used a standard-sized cookie scoop. Press a few chocolate chips onto the tops of cookies for looks, if desired.
6. Bake for 8-9 minutes, until barely golden brown around the edges. Do NOT bake them longer than 10 minutes. Remove and let cool for 3 minutes on the cookie sheet. Transfer to cooling rack. Cookies remain fresh in an airtight container for up to 7 days.
Makes 2-3 dozen cookies.