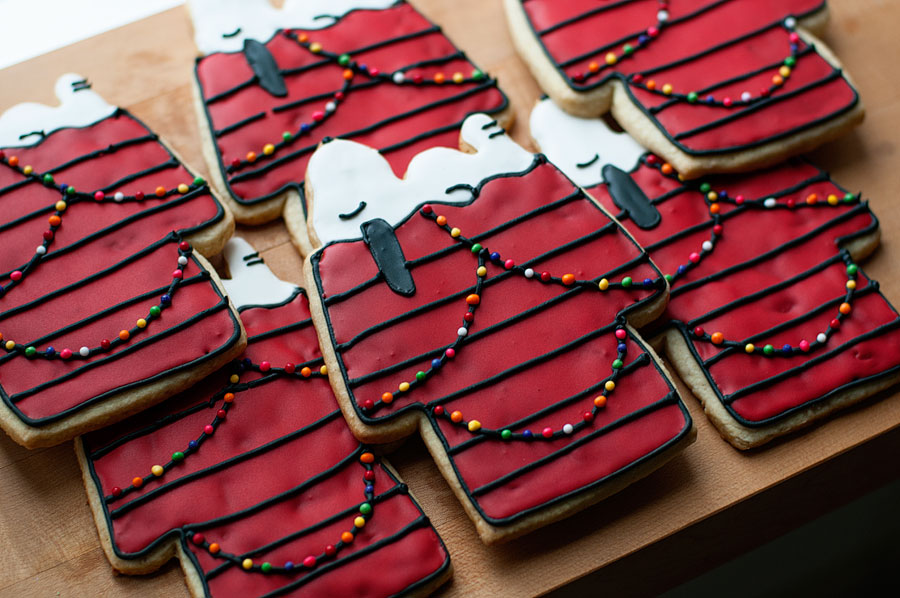 These cookies just make my heart happy. Who doesn't love Charlie Brown and the whole Peanuts gang? Rather than a step-by-step tutorial, here are some bullet points explaining how I made these:
These cookies were inspired by Pink Apron Baker
The gigantic (these cookies are about 6″ tall) cookie cutter was purchased on Amazon
My cookies turned out lumpy, as you can see. Yikes. I'm still trying to figure out how to make perfectly smooth cut-out cookies. Any suggestions for me?? Help!
The "lights" are jumbo rainbow nonpareils from Wilton; it was the most tedious part of making these — as I put each little sprinkle on with a tweezers!
I used my grandmother's cookie recipe for these
If you are new to decorating with royal icing, please see this post at Annie's Eats
I outlined the dog house in black first, then I outlined Snoopy in white. After those outlines dried, I flooded each cookie with red icing — and flooded Snoopy with white icing. When the flooded icing dried, I drew the details with black icing — the lines on the house and strings of lights — as well as Snoopy's ears, nose, eyes, etc.
Let me know if you have any questions — and I hope you've enjoyed the 12 days of updates on my blog!