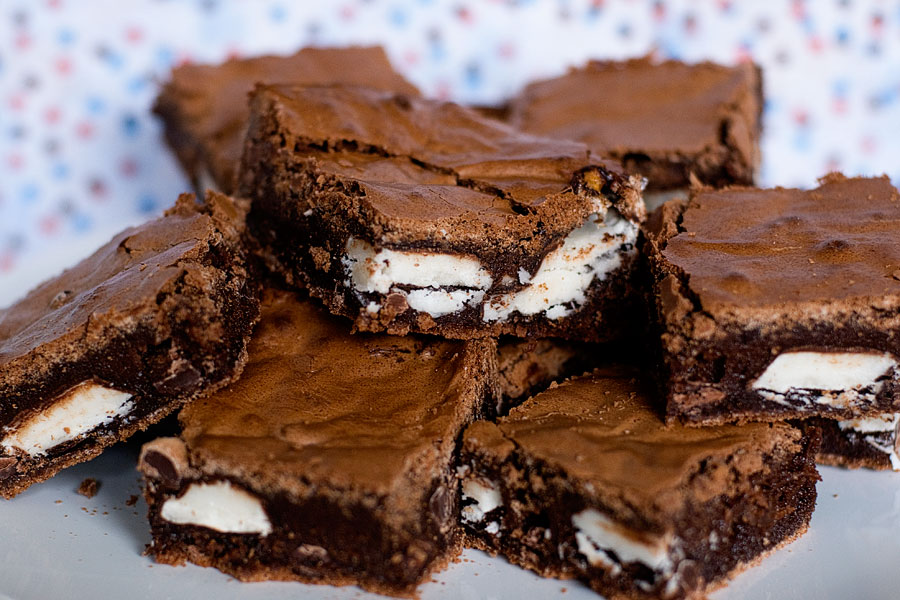 I had some York patties leftover from Halloween and wanted to use them in some capacity. These are incredibly rich, so maybe cutting them into 1-inch squares would be the best way to go (instead of the giant brownies I created).
Yield: About 24-30 brownies
York Peppermint Patty Brownies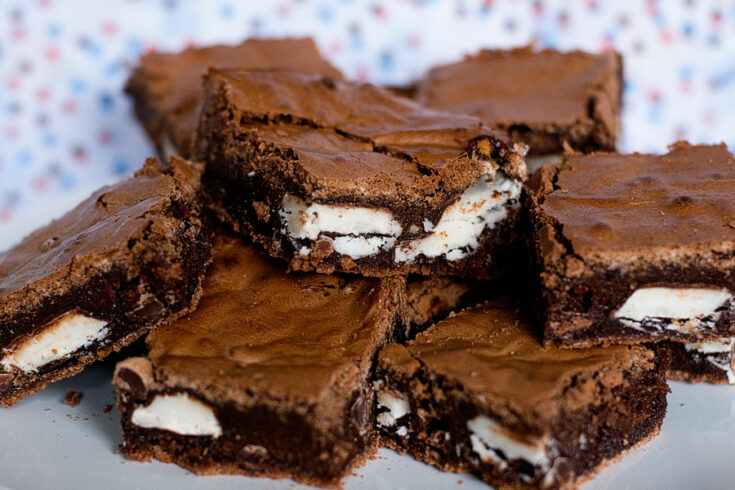 A classic candy paired with a perfect, ooey gooey brownie!
Total Time
2 hours
40 minutes
Ingredients
1 cup butter
8 oz unsweetened chocolate
5 eggs
3-3/4 cups sugar
2 teaspoons vanilla
1/2 teaspoon salt
1/2 teaspoon almond extract
1-2/3 cups flour
1 cup semi sweet chocolate chips
2 bags York Peppermint Patties
Instructions
1. Line the bottom of a 9×13" pan with tin foil and cover with nonstick spray. Preheat oven to 425F.

2. Microwave the unsweetened chocolate and butter for 30 seconds at a time, stirring after each cooking interval. Keep cooking and stirring until the chocolate and butter are melted. Set aside.

3. In a mixing bowl (or in your stand mixer) beat the eggs, sugar, vanilla, salt and almond extract for 3-4 minutes.

4. Add the melted chocolate mixture and flour. Mix until incorporated.

5. Stir in the chocolate chips.

6. Spread half of the batter into the buttered pan.

7. Unwrap your peppermint patties and line them up over the top of the bottom layer of batter.

8. Cover the patties with the second half of the batter.

9. Bake at 425F for 20-25 minutes. [This part can be a little tricky. Stick a knife in the top layer of brownie and be sure that it comes out clean before you take them out of the oven.]

10. Cool on a wire rack and then refrigerate at least 2 hours.
Notes
Your yield will depend on how big or small you cut your brownies.