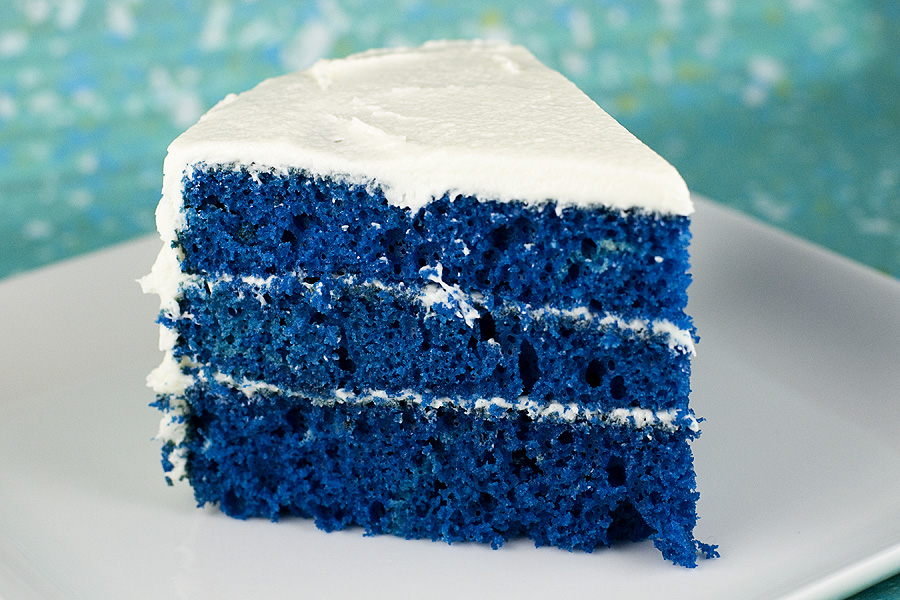 Father's Day weekend is approaching! If you want to make red velvet cake a little more manly, try BLUE velvet cake instead! I am always a fan of things that are a little crazy and off-the-wall — and blue cake definitely fits that description. The frosting on this cake was delicious and reminded me so much of the marshmallow bits from Lucky Charms cereal. I hope you all have a great weekend and here's to all of the amazing dads out there!
Blue Velvet Cake
Recipe source: Betty Crocker
Print Recipe
1 box white cake mix
1-1/4 cups buttermilk
1/3 cup vegetable oil
3 eggs
1 Tablespoon unsweetened cocoa powder
2 teaspoons royal blue paste food coloring
1 toothpickful violet paste food coloring
Frosting:
1 jar (7 oz) marshmallow creme
1 cup butter, softened
2-1/2 cups powdered sugar
1/8 teaspoon salt
1. Preheat oven to 325F. Grease bottom and sides of three 8-inch round cake pans (or spray with non-stick baking spray).
2. In a large bowl, beat all cake ingredients with an electric mixer on low speed for about 30 seconds or until moistened. Beat on medium speed for 2 minutes, scraping bowl occasionally.
3. Divide batter evenly among pans. Bake 23-28 minutes or until top springs back when lightly touched in the center. Cool 15 minutes; remove from pans and cool completely on wire racks.
4. In microwave-safe bowl, microwave marshmallow creme on high for 15-20 seconds to soften. Add butter and beat with an electric mixer on medium speed until smooth. Beat in powdered sugar and salt until smooth.
5. If necessary, trim rounded tops of cake layers to flatten before assembling. Layer and frost cake.