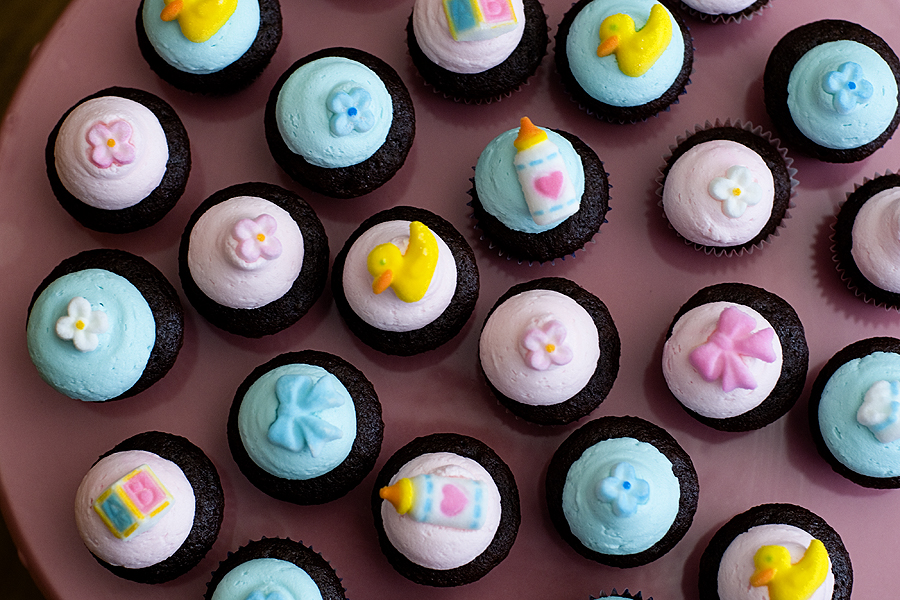 One of my former co-workers is expecting a baby in early October (hi, Jenny!). Our former boss hosted a cookout last week and I decided to make mini cupcakes for dessert — with a baby girl/baby boy theme! The mom-to-be is going to have a delivery surprise, so we were all making bets as to whether she's carrying a boy or girl (I predict a girl). These cupcakes were a breeze to make, as I used a chocolate box mix for the cupcake. I bought the pressed sugars at Vanilla Bean and used my favorite icing recipe in the whole wide world. I dyed half pink and half blue — and used a large round tip to pipe the icing onto each mini cupcake.
White Buttercream Icing
Recipe source: therepressedpastrychef.blogspot.com
1 stick salted butter – room temperature
1 stick unsalted butter – room temperature
1 cup shortening
1 tablespoon clear vanilla extract**
2 pounds confectioner's sugar
4-6 tablespoons very cold milk
(The CLEAR extract is very important if you want WHITE buttercream. Most buttercream tends to have a yellow-ish tint if you use real vanilla extract)
1. Cream the butter and shortening in the bowl of an electric or stand mixer.
2. Add the clear vanilla extract and combine well.
3. Begin adding in the sugar and mixing thoroughly after each addition.
4. After all of the sugar has been added and mixed thoroughly, begin adding the very cold milk… one tablespoon at a time, combining very well after each addition (mixer on medium-high to high speed) until you reach the desired consistency.