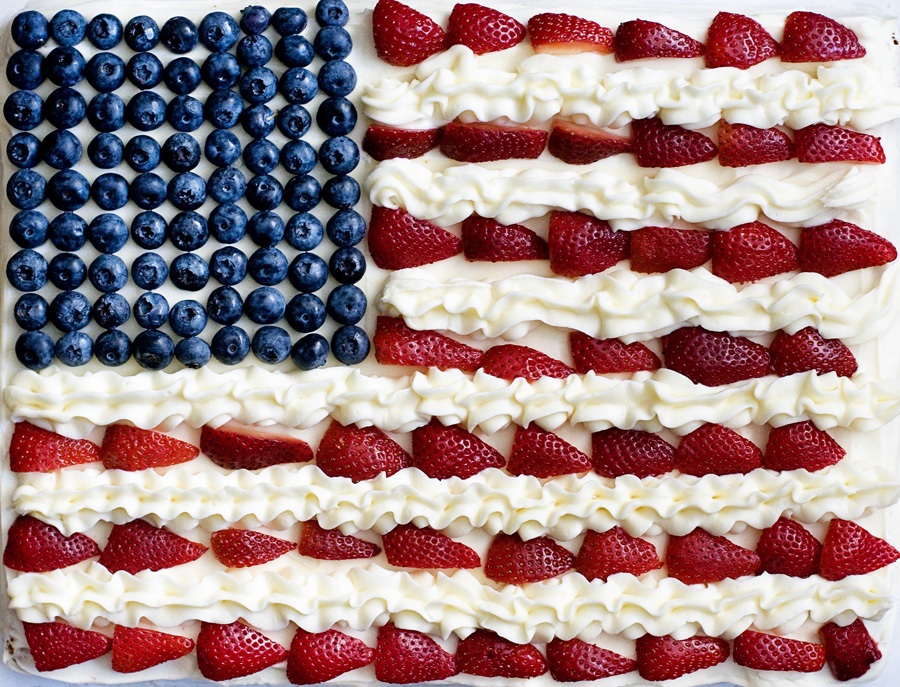 It wouldn't be summer without a 4th of July flag cake! There are countless variations of this cake – some made with strawberries, some with raspberries. Some with vanilla frosting, some with cream cheese. Any way you choose, it's bound to be delicious. I mean, seriously, frosting plus cake plus fruit? Mmmmm. The recipe that I used made enough cake to feed a small army (or in my case, my frosting-loving girlfriends). I hope all of my readers have a fun and safe holiday weekend!
4th of July Flag Cake
Recipe Source: The Pioneer Woman
Print Recipe
FOR THE CAKE:
2-¼ sticks unsalted butter
3 cups sugar
6 whole eggs
1 cup sour cream (not low fat!)
1-½ teaspoon vanilla
3 cups flour, sifted
â…" cups cornstarch
1 teaspoon Kosher salt (use 3/4 teaspoon regular salt if kosher salt is not available)
1 teaspoon baking soda
FOR THE FROSTING:
1-½ pound cream cheese (3 – 8oz. Packages, not low fat)
1 pound unsalted Butter (4 sticks)
1 pound powdered sugar
1-½ teaspoon vanilla
½ pints blueberries
2 pints raspberries (wash and pat dry — I used strawberries instead!)
1. Preheat oven to 350F.
2. In a mixing bowl, mix unsalted butter and sugar together on high until light and fluffy, about a minute or so. Add eggs, two at a time. Mix after each addition. Add sour cream and vanilla.
3. In a separate bowl, mix together flour, cornstarch, kosher salt and baking soda. Turn mixer to low and gradually add flour mixture to butter/sugar mixture, one scoop at a time. Mix after every addition. Keep adding the flour mixture, mix until just combined. Do not overmix!
4. Grease and flour a 17 x 12 1/2-inch sheet cake pan. (Note: this recipe may be halved for a smaller pan, as this recipe feeds an army.)
5. Pour the thick cake batter into the pan. With a knife or offset spatula, spread the cake batter evenly over the pan.
6. Bake for 20 to 30 minutes, until a toothpick comes out clean. Do not over-bake!
To make the cream cheese frosting…
1. In a mixing bowl, add cream cheese and butter. Whip to combine. Add powdered sugar and vanilla. Mix until thoroughly combined, scraping the sides once during mixing.
*I used about 1.5 lbs of powdered sugar – because I wanted a slightly thicker frosting.
2. Frost the entire cake with the frosting.
3. Mark off an area for the stars with a toothpick. Fill with blueberries.
4. Prepare a pastry bag with a large star tip and fill with frosting. Alternate making rows of strawberries and rows of piped frosting for the stripes.