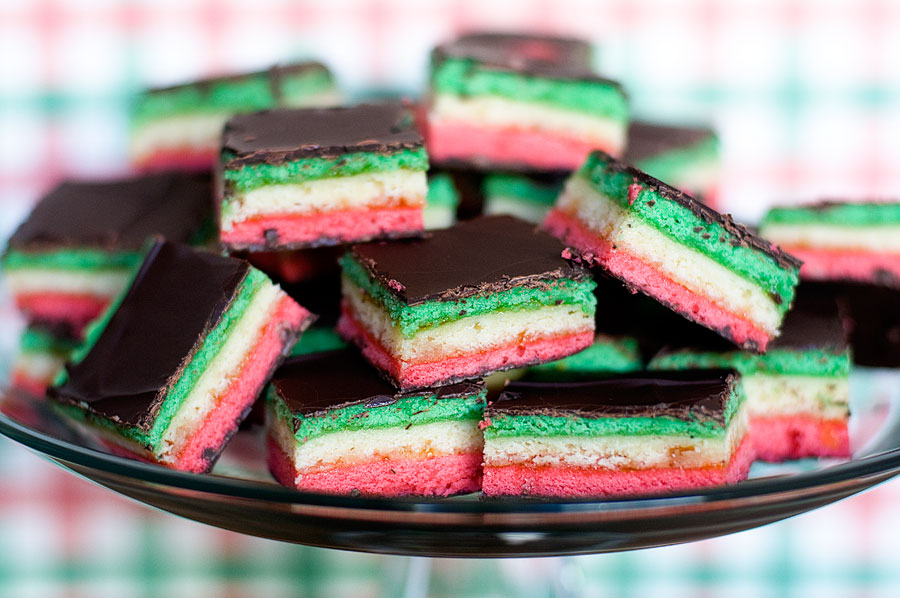 This recipe has been on my to-bake list for, no joke, TWO YEARS. It was one of those recipes that I longed to make.. I knew I would love the results.. but I was intimidated. These cookies (sidenote: why does everyone call them cookies? they're more of a bar!) take 11 hours to make. These cookies involve egg whites and almond paste and many assembly steps. I normally dive right into most baking projects, but this one had me so hesitant.
Then I went to New York a few weeks before Christmas. How many of you have been to New York at Christmastime? Well, let me tell you, it is magical. I walked until my feet screamed, took an absurd amount of photos, and fell in love with these rainbow delights. I was walking through a Christmas market in Central Park and saw that one of the vendors was selling these cookies. I bought three of them and they were in my belly in no time. I think they have climbed the ranks and become my FAVORITE cookie that I've ever made. Even beating out my beloved grandmother's cut-out recipe… and my go-to recipe for chocolate butter cookies. These bright and colorful cookies are indescribably good.
So I put my fears aside and made them when I returned to Wisconsin. The homemade version was every bit as good as what I ate in New York. And I learned (yet again) that I should just do what intimidates me… because 99% of the time, it will all work out.
Seven Layer Cookies
Recipe sources: Smitten Kitchen and Sugarcrafter
Print Recipe
Note: These cookies, from start to finish, take about 10-11 hours to make. This is NOT 10-11 hours of active work, but there are significant periods of refrigeration, freezing, etc.
4 large eggs, separated
1 cup sugar
8 oz. can almond paste
2-1/2 sticks unsalted butter, softened
1 teaspoon almond extract
2 cups all-purpose flour
1/2 teaspoon salt
25 drops red food coloring
25 drops green food coloring
1 jar (12 oz) apricot preserves, heated and strained [I used a slightly larger jar — err on the side of having too much jam!]
7 oz bittersweet chocolate, chopped [I used 9 oz, so I would be sure to have enough; but you could probably be just fine with 7 oz]
1. Put oven rack in the middle of oven and preheat to 350F. Spray a 9×13″ pan with nonstick spray and line the bottom with wax paper. Leave a 2-inch overhang on 2 ends, then spray the paper with nonstick spray.
2. Beat egg whites in mixer fitted with a whisk attachment, until they just hold stiff peaks. Add 1/4 cup sugar a little at a time, beating at high speed until whites hold stiff, glossy peaks. Transfer the egg + sugar mixture to another bowl and set aside.
3. Switch to the paddle attachment. Beat together the almond paste and remaining 3/4 cup of sugar until well-blended, about 3 minutes. Add butter and beat until pale and fluffy, about 3 minutes. Add yolks and almond extract; beat until combined well, about 2 minutes. Reduce speed to low, then add flour and salt; mix until just combined. Fold half of egg white mixture into almond mixture to lighten, then fold in remaining whites gently but thoroughly.
4. Divide batter among 3 bowls. Try to be as accurate as possible to ensure that each bowl gets the same amount of batter. [I used a kitchen scale to ensure even amounts of batter] Stir red food coloring into one and green food coloring into another, leaving the third batch plain. Set white batter aside. Chill green batter, covered. Pour red batter into prepared pan and spread evenly with an offset spatula. [the layer will be THIN, don't worry! Just spread the batter as evenly across the pan as you can]
5.  Bake red layer 8 to 10 minutes, until just set. Do not over-bake! The layer will look undercooked, but a tester will come out clean. Using paper overhang, transfer layer to a rack to cool, about 15 minutes. Clean pan, then line with parchment or wax paper and spray paper in same manner as above. Bake white layer in prepared pan until just set. As white layer bakes, bring green layer to room temperature. Transfer white layer to a rack. Prepare pan as above, then bake green layer in same manner as before. Transfer to a rack to cool.
6. When all layers are cool, invert green onto a parchment or wax paper-lined large baking sheet. Discard paper from layer and spread with half of preserves. Invert white on top of green layer, discarding paper. Spread with remaining preserves. Invert red layer on top of white layer and discard wax or parchment paper.
7. Cover with plastic wrap and weight with a large baking pan. Chill at least 8 hours.
8. Remove weight and plastic wrap. Bring layers to room temperature. Melt chocolate in a double boiler (or VERY carefully melt in the microwave). Once thoroughly melted, remove chocolate from heat. Quickly spread half of chocolate in a thin layer on top of cake. Chill, uncovered, until chocolate is firm — about 15 minutes. Cover with another sheet of wax paper and place another baking sheet on top, then invert cake onto sheet and remove paper. Quickly spread with remaining chocolate. Chill until firm.
9. Before cutting, freeze the cake for about 30-45 minutes. It will be MUCH easier to cut the bars while frozen — trust me on this one! Cut lengthwise into 4 strips, then cut strips crosswise into 3/4-inch wide cookies.
A few more tips…
–  These cookies are moist and will keep, in an airtight container at room temperature, for about 2 weeks. They will keep even longer in the freezer.
– Do not use too much apricot jam between each layer. If you do, the cakes will slip and slide. You want a nice, thin layer of smooth jam between each layer of cake.
– I will reiterate: cut these cookies when frozen! If you attempt to cut while they are at room temperature, the layers of cake may slide around and you won't get nice, clean, neat cookies.
– Work quickly when you spread the chocolate over the top and bottom of the cakes. Once you remove the chocolate from its heat source, it will seize up if you let it sit for too long. Stick to the 15-minute time refrigeration period after spreading the first layer of chocolate.
And if you're like me, you might be a little sad that Christmas has come and gone. But here's a little New York cheer. Only 11 months until Christmas!