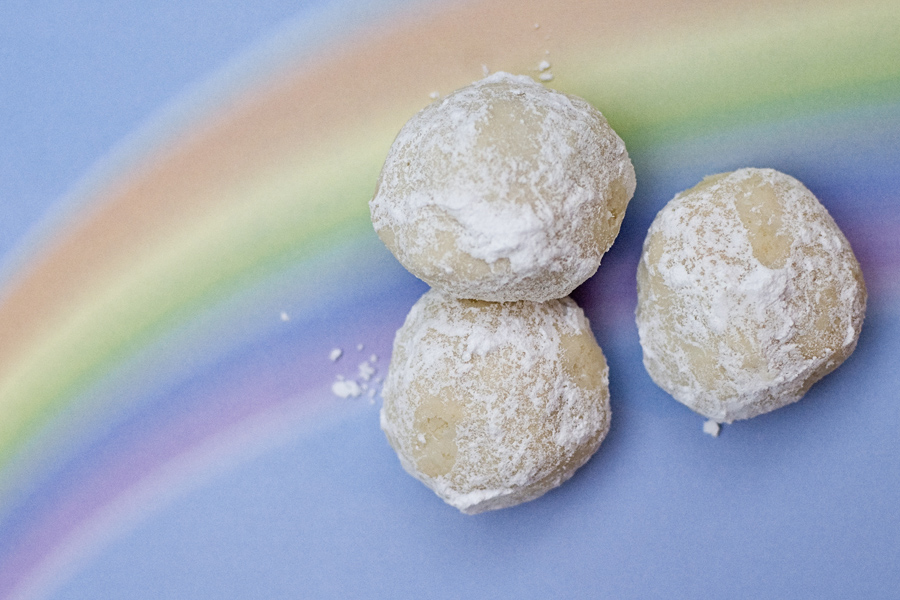 Isn't the rainbow background just precious? ;) But really, I think these cookies are deserving of such a magical background. They are buttery and just melt in your mouth. These little nuggets of deliciousness are also called Mexican Wedding Cookies and can be made with either pecans or almonds.
Almond Butter Cookies
Recipe credit: Taste of Home & my Grandma Baivier
Print Recipe
1 cup butter, softened
1 cup powdered sugar, divided
2 cups all-purpose flower
1 teaspoon vanilla extract
3/4 cup chopped almonds
Preheat oven to 350F. Cream the butter and 1/2 cup powdered sugar. Add flour and vanilla and mix well. Stir in the almonds and shape into 1-inch balls. Place on an ungreased baking sheet and bake for 13-16 minutes, or until the edges are golden brown. Cool for a few minutes before moving to wire cooling racks. Once cooled completely, roll in remaining powdered sugar.