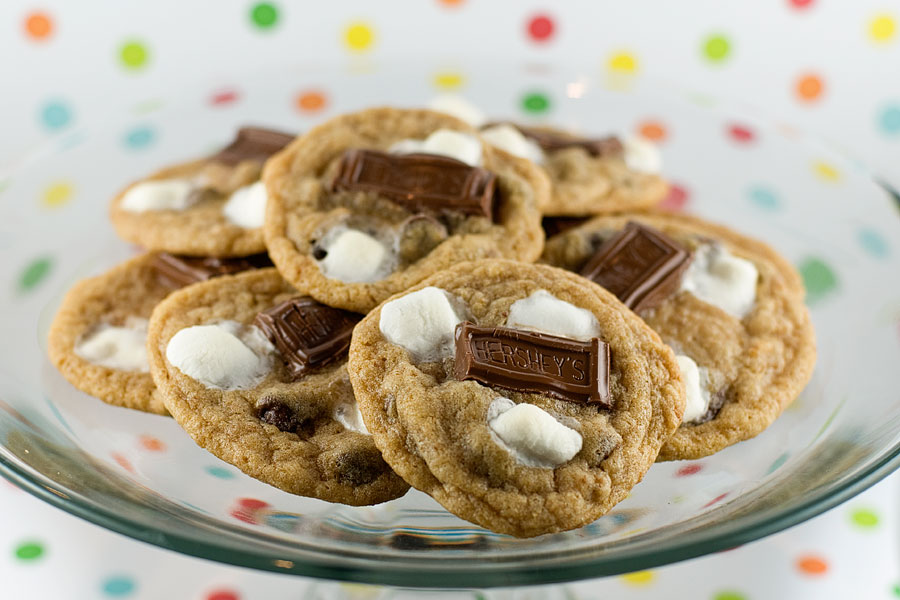 I met Andrea on my very first day of law school. We actually met at law school orientation. In the sea of nervous, terrified people I found Andrea. We immediately bonded over our love of Disney World, as Andrea had vacationed to the land of magic over the summer. The rest, as they say, is history. We've been friends ever since and continue to navigate through law school together. And what a scary, slightly-nauseating trip it's been!
Last semester, Andrea brought a batch of these cookies to class (she's a baking lover, too!). I fell in love with them. They are the perfect combination of chewy and crunchy – and the graham cracker crumbs that are incorporated into the dough give the cookies a really great flavor. And they remind me of summertime – having a bonfire and making real s'mores.
So here's to Andrea, law school, and eating our feelings every now and then via baked goods.
Andrea's S'mores Cookies
Print Recipe
1-3/4 cups flour
1 cup graham cracker crumbs (I used a food processor)
1 teaspoon salt
1 teaspoon baking soda
3/4 cup sugar
3/4 cup light brown sugar
1 cup (2 sticks) unsalted butter, at room temperature
2 teaspoons vanilla
2 eggs
1-2 cups miniature semisweet chocolate chips
6 Hershey bars (chopped into pieces)
1 bag mini marshmallows1. Preheat the oven to 375F and line a cookie sheet or two with parchment paper.
1. Preheat the oven to 375F and line a cookie sheet or two with parchment paper.
2. Mix the butter and sugars until thoroughly combined. Add the eggs and vanilla.
3. In a separate bowl combine the salt, baking soda, flour, and graham cracker crumbs. Mix together until combined. Then add 1/3 at a time to the wet mixture. Mix until combined.
4. Add the chocolate chips. (Some people find that 1 cup is too little or 2 cups is too much so it's really up to you.)
5. Roll tablespoon size dough into balls and then place them on a greased baking sheet
6. Bake for 5 minutes then remove them from the oven and stick the Hershey's pieces and marshmallows in the tops of the cookies. Put them back in the oven and let them bake for another 3 minutes.
7. Allow to cool on the cookie sheets for a minute or two, then remove to wire racks for complete cooling.