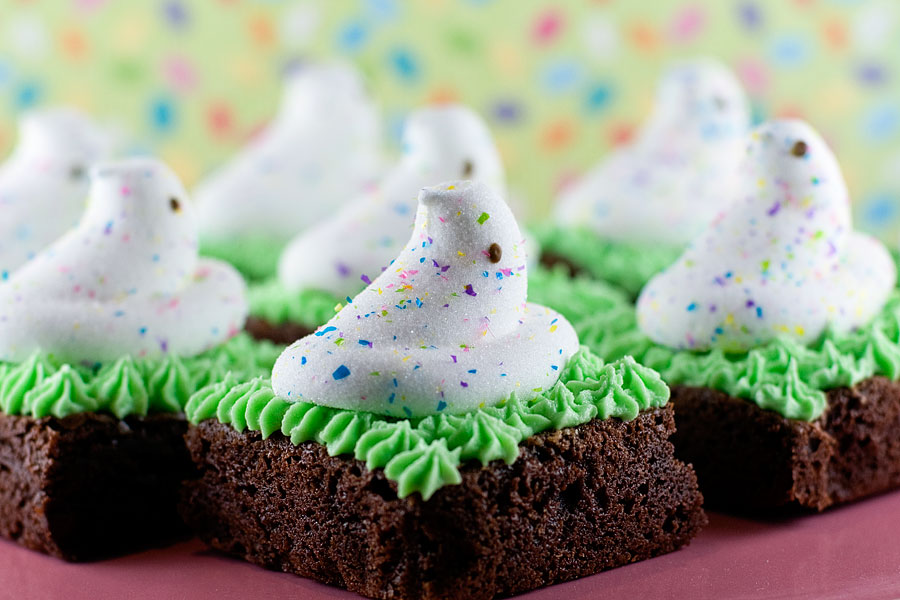 This year marks the 60th anniversary of Peeps! Aren't these anniversary peeps the cutest things? I love the speckled colors — and the fact that they are vanilla flavored, as opposed to just tasting like stale sugar. I didn't really know what to do with these and decided to make brownies. I figured that most people don't like Peeps, but most people love brownies! I used a box mix for the brownies because I was short on time. I made a batch of homemade buttercream to look like grass and placed a Peep on top.
PS: The only place I've seen the anniversary Peeps is at Target. They come in a special silver package with three Peeps in each.
Anniversary Peep Brownies
Print Recipe
1 box brownie mix (plus required oil and eggs)
Ingredients for your favorite frosting (I used white buttercream)
Green food coloring
Pastry bag + tip
Peeps
1. Make the brownies according to box directions and allow them to cool entirely. Cut the cooled brownies into squares.
2. Make the buttercream icing and use a few drops of coloring to dye it green. Using a small star tip, pipe a bed of "grass" on the top of each brownie.
3. Place a Peep on each brownie.
Makes about 9 brownies.