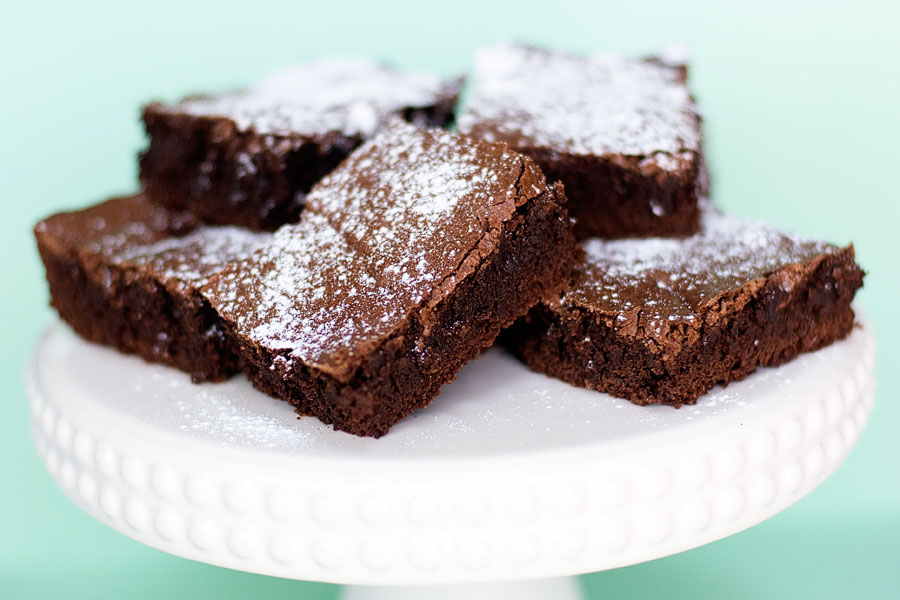 A good, dense brownie is one of my favorite treats. A good, dense brownie paired with alcohol? Even better. I made these brownies for St. Patrick's Day, but haven't gotten around to blogging about them until now. Whoops! You can still serve these to your kids because the alcohol in the Bailey's will evaporate during baking… and you'll be left with the delicious pairing of chocolate + Irish cream!
Bailey's Irish Brownies
Recipe source: Gimme Some Oven
Print Recipe
1 cup all-purpose flour
1/2 cup unsweetened cocoa powder
1/4 tsp. baking soda
1/4 tsp. salt
Heaping 1/3 cup bittersweet or dark chocolate chips
1/4 cup butter
2 eggs
1 cup sugar
1/3 cup Baileys Irish Cream
1 tsp. vanilla extract
1. Preheat oven to 350°F. Line an 8×8-inch pan with aluminum foil and cover with non-stick spray.
2. In a medium bowl, whisk together flour, cocoa, baking soda, and salt until combined. Set aside.
3. Place chocolate and butter in a large microwave-proof bowl and melt in 30 second spurts, stirring in between each interval until completely melted. Set aside to cool a bit. (Alternatively, melt chocolate and butter in a double boiler until melted. Set aside to cool.)
4. Once the chocolate mixture is warm (not hot!), add eggs one at a time, whisking constantly to incorporate. Whisk vigorously for about 10 seconds to incorporate fully. Add sugar, vanilla, and Bailey's and whisk until combined. Add the flour mixture into the chocolate mixture, folding until just combined.
5. Pour batter into the prepared pan, using a spatula to smooth out the top. Bake at for about 18-20 minutes, or until a toothpick comes out with a few moist crumbs attached. Let cool, and dust with powdered sugar if desired.