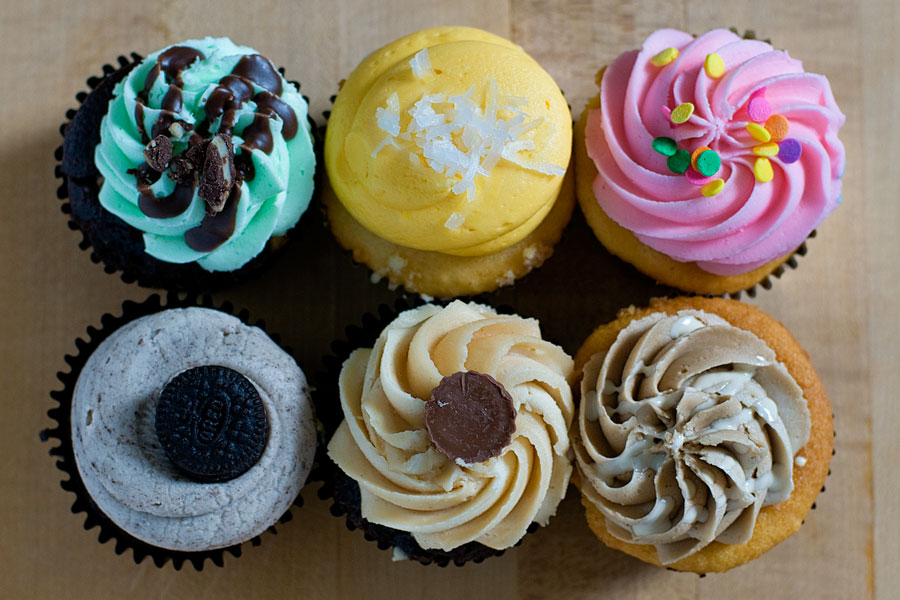 I decided recently that I want to try more bakeries. Really, this is just a justification to eat more baked goods. But I want to see more of what Milwaukee (or wherever I am at the moment) has to offer in terms of sugary treats. I made a big list of Milwaukee bakeries that I'd like to try, so I hope to get to them all slowly but surely.
I started a few weeks ago with Classy Girl Cupcakes here in Milwaukee. Here are my thoughts:
Great location right downtown — Jefferson Street right on Cathedral Square Park
The varieties that I tried: birthday cake, grasshopper, pina colada, cookies 'n' cream, peanut butter, and caramel delight.
My favorites were the grasshopper and caramel delight — mainly because they were damn good, and I'm a sucker for anything mint or caramel!
The peanut butter cupcake was my least favorite — the frosting tasted greasier than the rest and the peanut butter flavor seemed artificial.
Problems with Classy Girl Cupcakes? Like all cupcake shops, they are expensive. $3 for a cupcake is nuts — but hey, I bought into it hook, line, and sinker just like everyone else!
Overall, I really liked this shop. Clean, light and airy, and the cupcakes were good.
Note: I am not being paid to review this bakery. I am not affiliated with this bakery. I am just a girl who really likes baked goods and enjoys a good distraction from school!