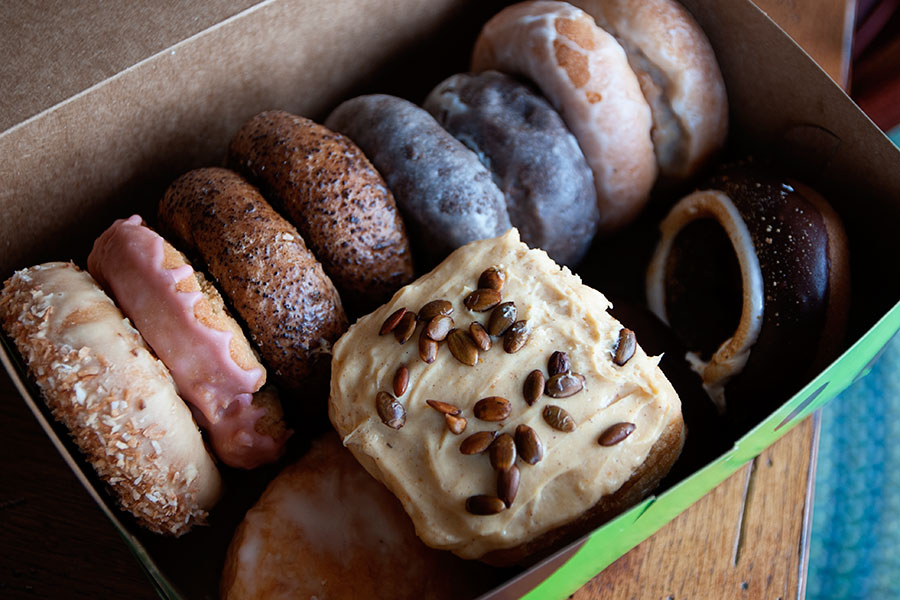 About six months ago, The Milwaukee Cupcake Company closed its doors and Holey Moley moved in to replace it. What a glorious turn of events. Cupcakes are alright, but they can't even touch the joy that is a DONUT! I went to a Packers game with some of my friends and before we hit the road to Green Bay, we picked up a box of Holey Moley donuts and devoured them. It wasn't pretty — fighting, bickering, and yelling over who was going to get the s'mores donut… who was going to get the maple bacon donut… etc. OK, so we didn't exactly fight — but we all LOVED these donuts.
My favorite was the maple bacon: a donut covered in maple-flavored frosting topped with bits of bacon. Oh. My. God.
The pink-ish donut in the photo above was blood orange flavored. *raise your hand if you just thought about that episode of Project Runway…*
The s'mores donut was another favorite of ours, as was the peanut butter-filled donut.
Other flavors we tried: espresso, coconut, chocolate glazed, pumpkin, and vanilla.
The staff was friendly and cheerful (even at 7 am on a Sunday!)
My only complaint is that their location is a little strange — in the lobby of a building in the Third Ward. Hopefully their business keeps booming and they can expand to have their own storefront.
Holey Moley is located at 316 N. Milwaukee Street in the Third Ward
Note: I am not being paid to review this bakery, nor am I affiliated with it. I just really like trying local bakeries and treats.