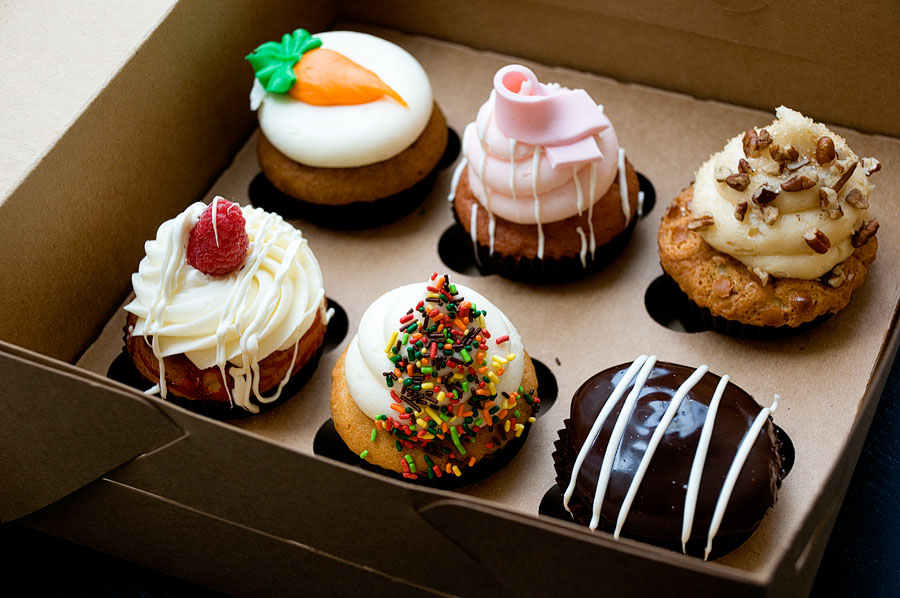 My best friend Bethany came to visit me in Milwaukee last month. We did all things tourist – Milwaukee Art Museum, Harley Davidson Museum, Milwaukee Public Market, the Third Ward, the list goes on. We stopped at the Milwaukee Cupcake Company for lunch one day. Yes, for lunch. Stop judging. ;) Here are my thoughts on this delicious local bakery:
Located in the Third Ward, one of my favorite neighborhoods.
The bakery is situated in the lobby of an old building – and the building has other tenants, so it's not a free-standing bakery.
The varieties we tried: carrot cake, raspberry white chocolate, pink champagne, salted caramel, classic vanilla, and tuxedo. They do flavors of the week, so if you live in the area, check their website before you visit to find out what the treat of the week is :)
The tuxedo cupcake was my favorite (because it involves so much chocolate, duh). It was just to-die-for.
I also loved the carrot cake cupcake. This is surprising, as I usually hate carrot cake anything!
The salted caramel was super, super sweet – which made it just ehhhh for me.
The raspberry white chocolate and vanilla were classics — and they were just alright. Nothing great, nothing bad, just a cupcake.
And my least favorite: the pink champagne. I just didn't like it.
So I adored two of the six! Not bad.
The Milwaukee Cupcake Company is lovely — their cupcakes are moist and flavorful. Just find a flavor you love! (I'll be stopping back for another tuxedo cupcake one of these days)
Note: I am not being paid to review this bakery, nor am I affiliated with it. I just really like trying local bakeries and treats.
PS: This bakery is now closed permanently. :(