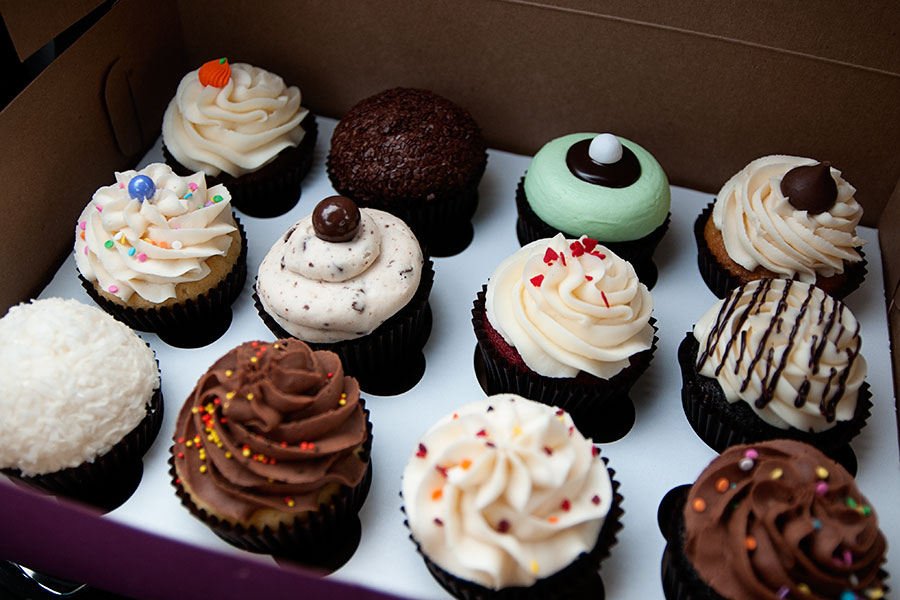 I'm reviewing Miss Julia's Bake Shop – located in Brookfield, WI!
I only have 7 months left in Milwaukee, so I'm trying to eat as many good things as possible — and to try as many new places as I can. Miss Julia's was on my list!
I thought these cupcakes were great — moist, fresh, and the frosting was so, so good (and I'm not a huge frosting lover).
I can't remember every kind that we tried, but the Whopper cupcake was my favorite! Jillian loved the pumpkin. Andrea loved the grasshopper. And Bekah loved the banana.
Miss Julia's has a standard, everyday selection of flavors (like vanilla, chocolate, red velvet) plus varieties that change daily and seasonally.
Miss Julia's is located in a strip mall in Brookfield. Not the cutest of locations, but at least the treats were delicious!
PS: they are located right behind Kopp's… should you need a some amazing savory to balance out the sweets. All of you Milwaukeeans will know what I'm talkin' about with Kopp's!
Note: I'm not being paid to promote this bakery. I just like to try new places and I'll take any excuse I can get to eat a few cupcakes.