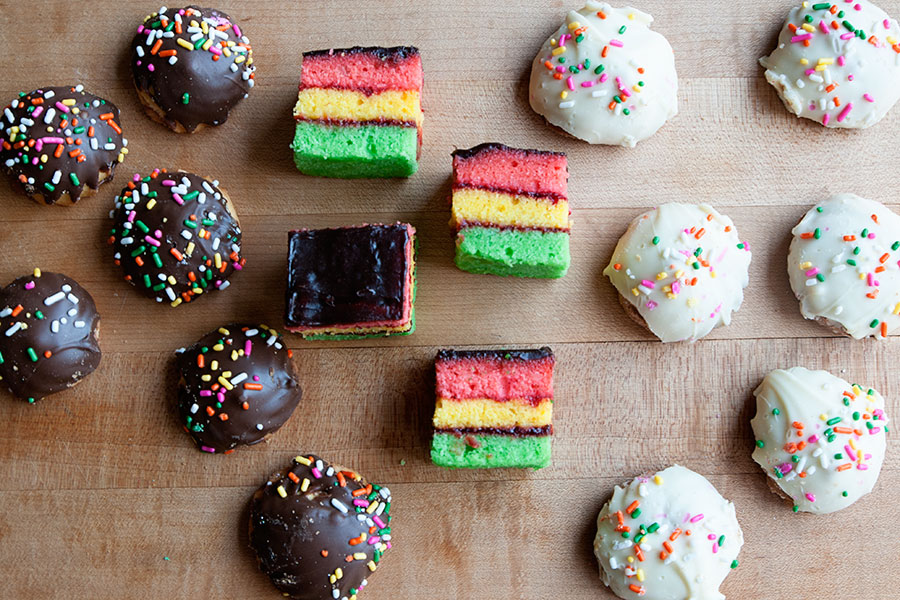 I live on the east side of Milwaukee and have always wanted to try Sciortino's Bakery because from the outside, it's total adorableness. I walked up to Brady Street one day and gave it a try — and much to my delight, they had my favorite cookie ever in stock: the 7 layer cookie! Here are my thoughts on this cute little bakery:
Their 7 layer cookies were alright. They could have been amaaaazing if filled with apricot instead of raspberry! But aside from my raspberry filling aversion, the cookies were fresh and moist and I enjoyed them.
I also tried chocolate and vanilla bon bons. I had never had a bon bon prior to this experience. But you always hear people yelling, "what are you gonna do?! Sit on the couch and eat bon bons all day long?!" Well now I know what they're talking about. The bon bons were really good — basically just a round cookie covered in chocolate or white chocolate.
Sciortino's sells cookies, donuts, pastries, breads, cakes, you name it.
My biggest complaint? Both times I've visited I was stunned at how rude the staff was. A bunch of cranky hipsters. Guys, you're working in a bakery, no need to be such a pill.
If you're in Milwaukee, give this place a try — 1101 E. Brady!
Note: I am not being paid to review this bakery, nor am I affiliated with it. I just really like trying local bakeries and treats.