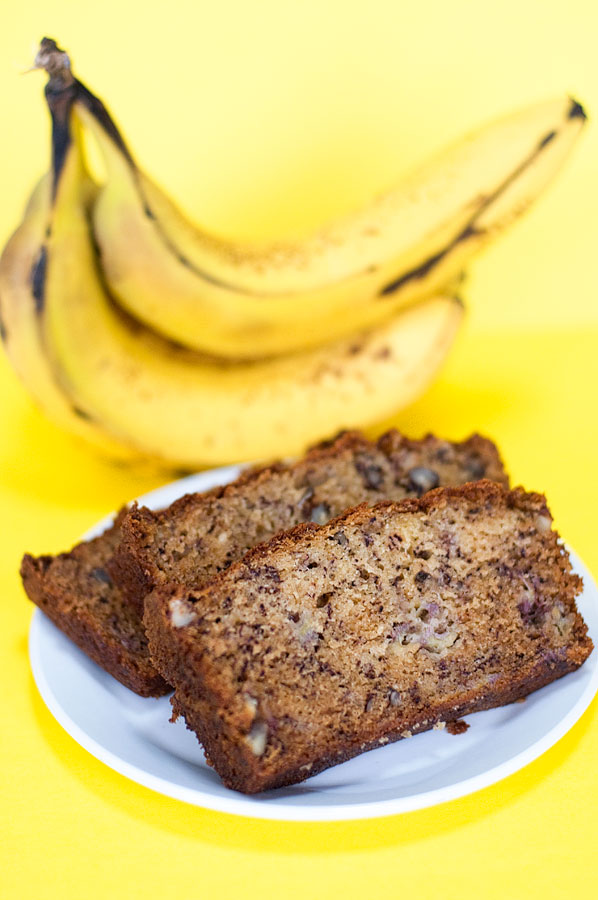 I will waste no time with this: I hate banana bread. Then why did I make it?! I do LOVE bananas. I, too, think it's weird that I love bananas but hate the fruit in bread form. But I always have and always will. My quirk about bananas is that I like to eat them when they are juuuuuust ripening… when they still have a little bit of green left in the peel. This stage of the fruit does not last long. A day, maybe.
[speaking of which, have you guys seen Eddie Izzard's bit about the fleeting ripeness of pears? It's great. The whole bit is hilarious, but he talks about pears at 4:30]
So long story short: I had a bunch of really ripe bananas that I wouldn't touch with a ten foot pole. I also happened to be staying with my parents, who both love banana bread. PERFECT! So boom, I made my most hated baked good. But I hear it was delicious. You'll just have to trust my parents on that one.
Banana Bread
Recipe source: Martha Stewart
Print Recipe
1/2 cup (1 stick) butter, at room temperature
1 cup granulated sugar
2 large eggs
1-1/2 cups unbleached flour
1 teaspoon baking soda
1 teaspoon salt
1 cup mashed very ripe bananas
1/2 cup sour cream
1 teaspoon vanilla
1/2 cup chopped walnuts or pecans
1. Preheat oven to 350 degrees. Butter a 9-by-5-by-3-inch loaf pan; set aside. In an electric mixer fitted with the paddle attachment, cream butter and sugar until light and fluffy. Add eggs, and beat to incorporate.
2. In a medium bowl, whisk together flour, baking soda, and salt. Add to the butter mixture, and mix until just combined. Add bananas, sour cream, and vanilla; mix to combine. Stir in nuts, and pour into prepared pan.
3. Bake until a cake tester inserted into the center of the cake comes out clean, about 1 hour 10 minutes. Let rest in pan for 10 minutes, then turn out onto a rack to cool.