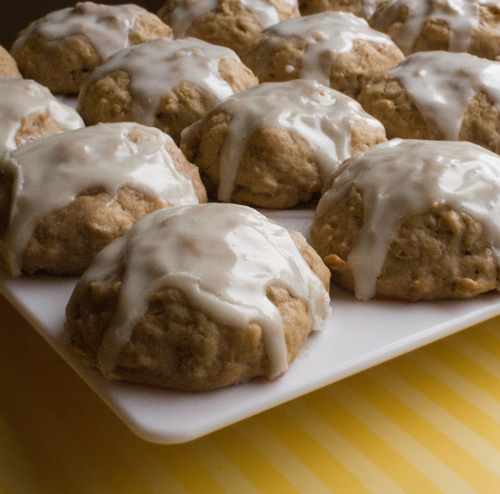 These cookies are great for using up sub-optimal eating bananas. The consistency is a bit chewier than a muffin, not as crumbly as cakey cookies and  they stay pretty moist overall. They are what I like to refer to as excellent 'breakfast cookies' for the following reasons:
1) the texture is perfect with coffee
2) they are not too sweet
3) the banana and oats give the impression of healthy eating
If you really like ginger, try doubling it because the flavor baked away to a pretty weak undertone in the end.
P.S. – I am especially proud of this post because this photo is actually mine (not my ghost photographer's work) and, at the risk of appearing overly self-congratulatory, I think it looks pretty good if I do say so myself…
Banana Ginger Cookies
Print Recipe
1 c. brown sugar
1/2 c. butter
1/2 c. shortening
2 Tbsp. fresh ginger, grated
2 eggs
2 bananas (preferably overripe)
1 tsp. salt
1 tsp. baking powder
1 tsp. cinnamon
2 c. flour
1 c. oats
Directions
Preheat oven to 325 oF. Cream sugar, butter and shortening.  Beat in ginger, eggs, banana. Add baking powder, salt, cinnamon. Stir in flour and oats until well–mixed.
Place golf ball sized rounds (I use a smallish ice cream scoop) of dough onto ungreased cookie sheets spaced ~2 inches apart. Bake 18-20 minutes until cookies look set and are slightly brown on the edges of the bottom.
Transfer to a wire rack to cool. Drizzle (or glob) royal icing on if desired. I used Wilton's meringue powder on these cookies and it set up really nicely.