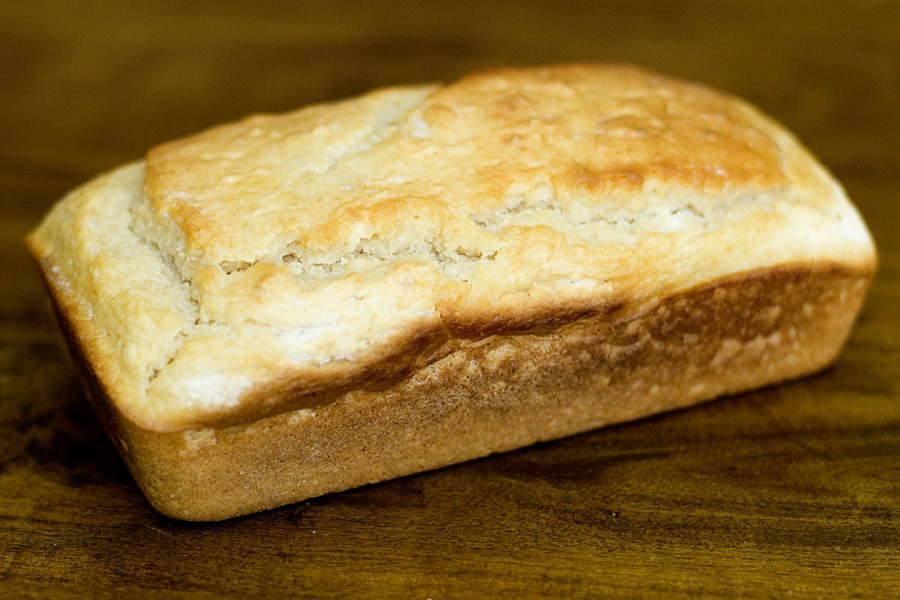 Ahhh, Sundays in autumn. Football season is in full swing. I love football. LOVE football. My beloved Green Bay Packers play tomorrow night against the Bears and I can't wait to watch. But for all of you watching the NFL today, here's a perfect and ridiculously easy treat to make. Beer bread would be a great side dish for chili! I found that it's best served right out of the oven — as it becomes a little less magical the day after it's made.
Beer Bread
Recipe Source: My Baking Addiction
Print Recipe
3 cups self-rising flour
1/3 cup sugar
1 teaspoon kosher salt
12 oz beer (I used Blue Moon — but be aware that the flavor of your bread will be impacted by the beer you choose)
2 Tablespoons melted butter
1. Preheat the oven to 375F.
2. Butter an 8×4 inch loaf pan and set aside. In a large bowl, combine the flour, sugar, salt, and beer; mix well. The mixture will be sticky. Pour into the loaf pan and bake for about 55 minutes.
3. At the last three minutes of baking, remove from oven and brush the top of the loaf with the melted butter. Return to the oven for the final three minutes of baking.