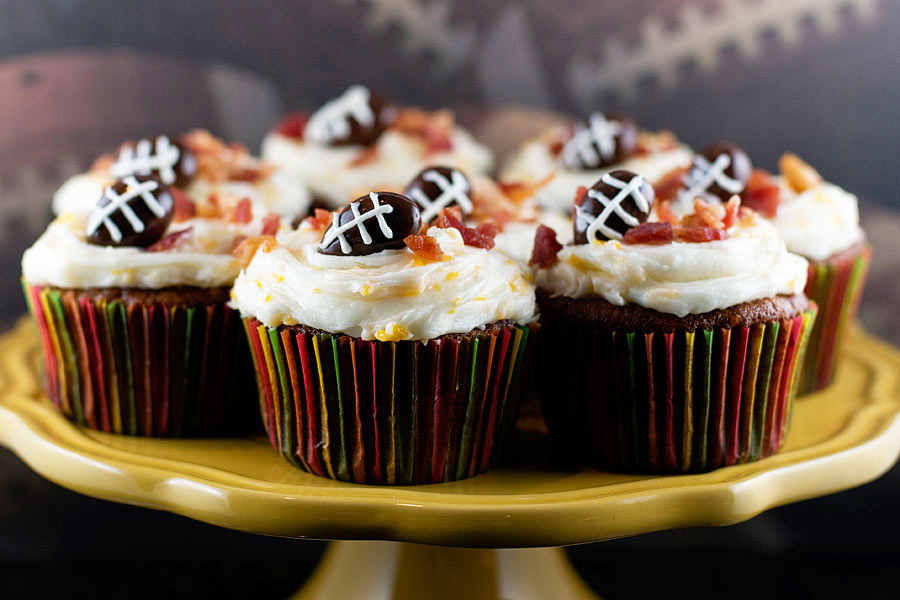 The Super Bowl is rapidly approaching! Who are you cheering for this year? My beloved Packers didn't make it into the big game, so I'll be wearing red and gold to support the 49ers. NFC all the way! (and I can't stand Ray Lewis, sooooo. . .) What are your Super Bowl traditions? Do you cook anything special or head out to the bars? Tomorrow I'll have a Super Bowl recipe roundup, so watch out for that. I wish I had the time to throw a party this year, as I've done in the past. But law school. . .it's the killer of all things fun!
These cupcakes are unique. I actually don't even know if they should be called cupcakes. They're an equal mixture of savory and sweet. The cake portion is made with beer, cheese, and a lot of brown sugar. My apartment smelled absolutely delicious while I was making them. The frosting is made with cream cheese, powdered sugar, and shredded cheese. The cupcakes are topped with bacon bits. See? I told you there is quite a mix of flavors! Cupcake? Muffin? Savory nugget? Whatever you want to call them, I hope you enjoy and make them on game day.
Beer Cheese Football Cupcakes
Recipe source: [I can't remember! I ripped the page out of a magazine]
Print Recipe
2 cups all-purpose flour
2-1/2 teaspoons baking soda
2 eggs
3/4 cup sour cream
1 Tablespoon vanilla
1 cup beer
1/2 cup butter
1 cup grated sharp cheddar cheese
2 cups packed dark brown sugar
For the frosting:
8 oz cream cheese, at room temperature
1/4 cup unsalted butter, at room temperature
3/4 cup grated sharp cheddar cheese
4 cups powdered sugar
For the mini footballs & garnish:
Chocolate covered almonds
Vanilla icing (I used store-bought)
Bacon bits (optional)
1. Line two muffin tins with paper liners. Preheat oven to 350F.
2. In a bowl, combine flour and baking soda. In another bowl, lightly beat eggs; stir in sour cream and vanilla.
3. In a large saucepan heat beer and butter over medium-high heat until butter is melted. Stir in cheddar cheese. Remove from heat; whisk in brown sugar. Stir in egg mixture. Fold in flour mixture (batter will appear lumpy — don't worry!). Spoon batter into prepared muffin tins, filling each about 3/4 full.
4. Bake for 20-25 minutes or until a tester comes out clean. Cool cupcakes in muffin tins for 5 minutes, then remove to wire rack to cool completely.
5. Make the frosting: In a large mixing bowl, beat cream cheese and butter until light and fluffy. Stir in 3/4 cup grated sharp cheddar cheese. Beat in 4 cups powdered sugar until frosting reaches spreading consistency.
6. Decorate: Frost the cupcakes. If desired, top with bacon. Pipe stitch markings onto almonds using vanilla icing to resemble a football. Place a decorated almond on each cupcake.
Makes about 24 cupcakes.