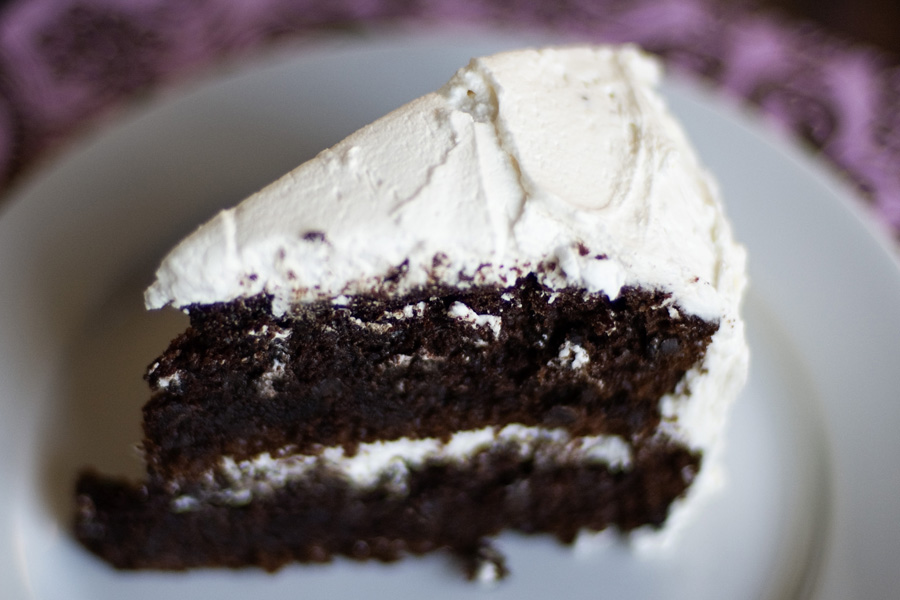 I must say, this cake really is the BEST chocolate cake EVER. Here is the recipe:
Chocolate Cake
Print Recipe
1 box Devil's Food chocolate cake mix
1 package Jello instant chocolate pudding (don't get the sugar-free or fat-free version!)
1 cup sour cream
1 cup vegetable oil
4 large eggs
1/2 cup milk
2 teaspoons vanilla
2 cups mini semisweet chocolate chips
Preheat oven to 350F. Mix everything together except the chocolate chips. Stir in the chocolate chips and pour batter into 9″ cake pans. Bake approximately 45 minutes – or until a tester comes out clean. Easy recipe, huh?
BEST Buttercream Frosting
1 cup Crisco shortening
4 cups powdered sugar
1/4 teaspoon salt
1 teaspoon vanilla
1/3 cup heavy whipping cream
Cream shortening until fluffy. Add sugar slowly and continue creaming. Add salt, vanilla, and heavy whipping cream. Blend on low until moistened. Beat on high until fluffy.
Recipe credit: http://www.kevinandamanda.com