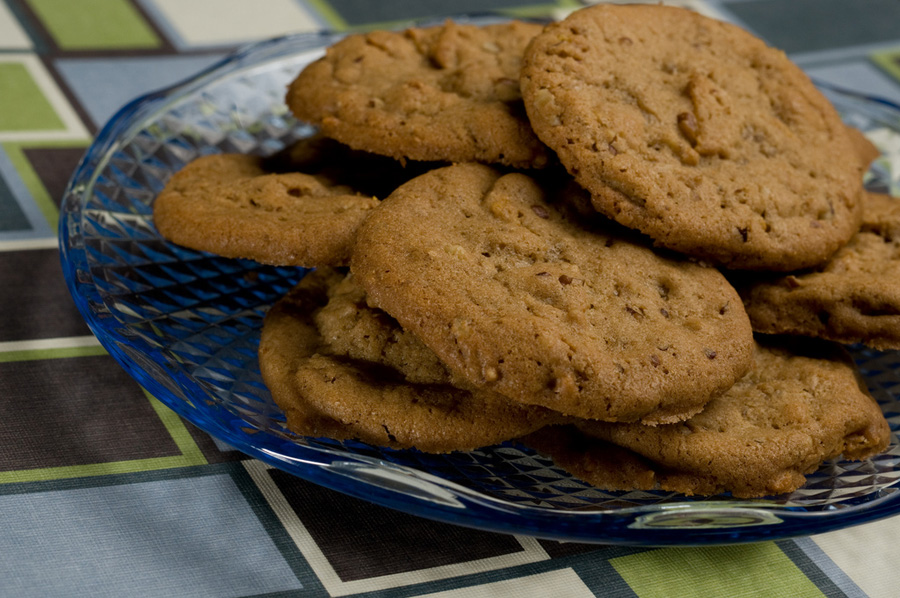 So as part of my inheritance from my Grandmother, I've received a big box of old recipes- books, clippings and nigh 20 different scratch papers with about 20 different recipes, each claiming to be something called an "Italian" cookie. I love looking through them- it's a little time machine, such as the booklet entitled "10 Cakes Husbands Love Best". I've noticed among many of the dessert recipes, most of which are some horrific-looking gelatin creation, several cookie recipes use cornflakes as a 'mix-in'. Personally, I'd never thought to try it and was skeptical they would go soggy in the dough, but then I thought that people who lived through the Depression probably wouldn't be so wasteful as to include soggy mix-ins, so I picked a recipe and tried it out. These turned out really well and the corn flakes add a really nice, subtle crunch. I will definitely make these again, in spite of the fact that my husband was sure these were blueberry-flavored cookies(?).
Black Walnut Cornflake Cookies
Print Recipe
1 c. shortening
1 c. brown sugar
1 c. granulated sugar
1 Tbsp. vanilla
3 drops black walnut flavoring (I used LorAnn's available here– use VERY scarcely, they are really strong!)
1 tsp. baking powder
1 tsp. baking soda
1/2 tsp. salt
2 eggs  (Note: I used extra large eggs when I made these- though, not on purpose…)
2 c. flour
1 1/2 c. corn flakes
1 c. black walnuts, chopped
Directions:
Preheat oven to 325 oF. Spray cookie sheets with cooking spray.
Cream together shortening and sugars. Beat in vanilla, walnut flavor (if using), salt, baking powder and baking soda. Beat in eggs for ~ 1 minute. Mix in flour, 1 cup at a time. Stir in corn flakes and walnuts.
Drop by scant tablespoons onto cookie sheet, leaving ~3″ space in between. Bake for 12-14 minutes or until edges just begin to brown. Centers will look puffy and slightly under done. Let cool on cookie sheet (they will firm), before transferring to a container.