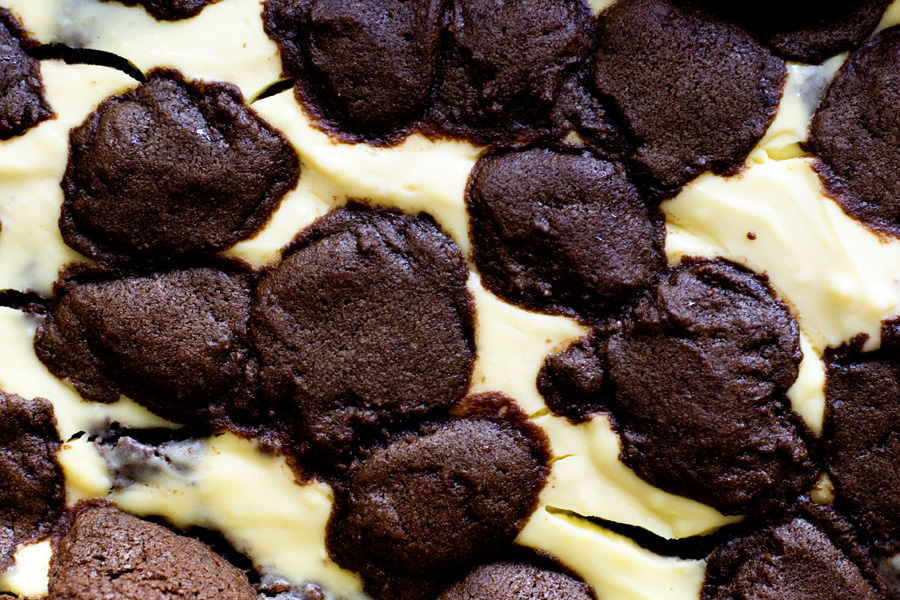 Black and White Cheesecake Squares
Recipe Source: Martha Stewart Living
Print Recipe
2 cups + 2 TB flour
3/4 cup unsweetened Dutch-processed cocoa powder
1 teaspoon baking soda
1/2 teaspoon salt
10 oz. unsalted butter
2 cups sugar
3 large eggs
2-1/2 teaspoons vanilla
8 oz. softened cream cheese
1/2 cup powdered sugar
1. Preheat oven to 325F. Coat 9×13″ pan with butter, cooking spray, or parchment paper.
2. Sift flour, cocoa powder, baking soda, and salt. Cream butter and sugar until smooth. Add 2 eggs and 2 teaspoons vanilla, beat. Slowly add flour mixture, beating after each addition.
3. Reserve 1 cup dough, cover and refrigerate. Press remaining douch into dish – refrigerate for 30 minutes. Bake 25 minutes, cool on wire rack.
4. Mix cream cheese, powdered sugar, egg, and 1/2 teaspoon vanilla. Spread over cooled base. Crumble reserved dough on top. Bake 25-30 minutes, cool on wire rack.
*Keep bars refrigerated!