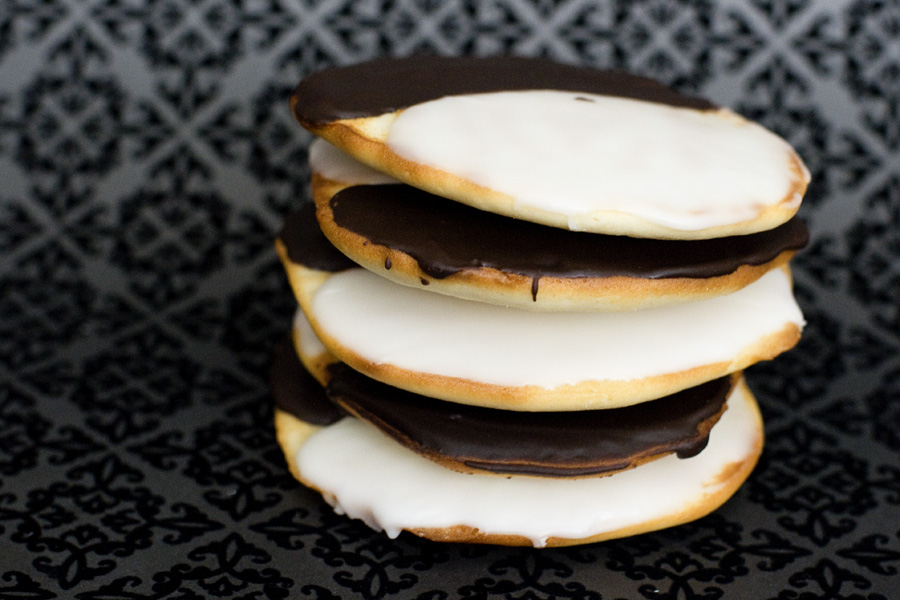 I'll be honest, if the recipe is good, one of my favorite cookies of all time is the Black & White Cookie. The soft, almost-cake-like consistency of the cookie. The subtle hint of lemon. And of course, the duo of chocoate AND vanilla (because really, after twenty six years of life, I still can't decide if I'm a chocolate or vanilla person). Black and White cookies have a lot of history – with their story being rooted on the east coast. Deb, from Smitten Kitchen, writes: "Back in the day, black and white cookies were actually made by bakeries from their leftover cake batters, with just a little extra flour mixed in so the cookie didn't spread all over the place. Sometimes called Amerikaner Cookies, they're also occasionally referred to as "half-moons" Upstate and in New England."
The cookie also made a famous appearance on Seinfeld. Jerry eats a black and white cookie and ponders race relations while doing so — and unfortunately, the cookie also causes Jerry to become ill. Try to catch the episode if you can – it's called "The Dinner Party".
On to the recipe! Enjoy these – they are wonderful, but because of their cake-like nature, they become stale rather quickly. Store them in an airtight container as soon as you finish frosting them.

Black & White Cookies
Recipe source: Smitten Kitchen
Print Recipe
1 3/4 cups granulated sugar
1 cup unsalted butter (2 sticks), at room temperature
4 large eggs
1 1/2 cups milk
1/2 teaspoon vanilla extract
1/4 teaspoon lemon extract
2 1/2 cups cake flour
2 1/2 cups all-purpose flour
1/2 teaspoon baking powder
1/2 teaspoon salt
4 cups confectioners' sugar
1/3 to 1/2 cup water
3 ounces very bitter or unsweetened chocolate
1 teaspoon light corn syrup
1 to 2 tablespoons unsweetened cocoa (optional – but necessary if you want the chocolate side of the cookie to be very dark in color)
Cookies:
1. Preheat oven to 375 degrees. Line two baking sheets with parchment paper.
2. In large mixing bowl, combine sugar and butter. Mix until fluffy. Add eggs, milk and vanilla and lemon extracts, and mix until smooth.
3. In medium bowl, combine cake flour, all-purpose flour, baking powder and salt. Stir until mixed. Add dry mixture to the wet in batches, stirring well after each addition. Using a large spoon, place heaping spoonfuls of the dough 2 inches apart on the baking sheets. Bake until edges begin to brown, 18 to 20 minutes. Cool completely.
Vanilla icing:
1. Boil a cup or so of water in a small pot. Place confectioners' sugar in large, heat-safe mixing bowl. Gradually stir in enough boiling water to the sugar to make a thick, spreadable mixture. Err on the side of caution because a too-thin frosting is hard to undo. Leave remaining boiling water on the stove.
2. Spread frosting on half of the flat side of each cookie.
Chocolate icing:
1. Place the bowl of the remaining vanilla frosting over the hot water and bring it back to a simmer (creating a double-boiler). Stir in the bitter or unsweetened chocolate until melted, as well as the light corn syrup. At this point, depending on the chocolate you used and your preferences, you might find the chocolate color to be a little lighter than the "black" of a black-and-white cookie. If so, a tablespoon or so of cocoa mixed in darkens the color nicely.
2. Ice the remaining half of the cookies with chocolate frosting. The chocolate icing — if you have used cocoa — will get dry and lose its shiny appearance. If this happens, whisk in an extra teaspoon or two of hot water. This will smooth it back into a shiny frosting.
Makes about 2 dozen large cookies.
I've also made a post about mini black and white cookies!